The Lawrence-area Freemasons have said their last goodbyes to the 94-year-old building that was the Scottish Rite Temple in downtown Lawrence.
Saturday they will hold an open house and a formal relocation ceremony at the new Lawrence Masonic Center, 1601 W. 23rd St. The 5,500-square-foot store-front-style space is more practical and cheaper to lease and operate than the old building at 1001 Mass., which was purchased by Lawrence developer Doug Compton.
No longer do they have to use stairs, and, unlike the old building, the new site is air-conditioned.
"We don't find anything wrong with it," said Ralph Gelvin Sr., the venerable master for the Lawrence Scottish Rite Valley.
The Masons decided to sell their downtown location in May of 2003.
Their new building features an entrance that leads into a commons or reception area, complete with a conference table and chairs. Nearby is a large room that can be used for dinners and banquets. There is a library, a storage room and a large meeting room near the back with a skylight over the venerable master's chair at one end of the room.
The building will serve as a meeting place for 362 Scottish Rite members with several Lawrence-area Masonic orders. It was chosen after attempts to find a suitable building that could be purchased failed.
"We were going to buy, but everything was so expensive," said Danny Keller, the assistant personal representative for Lawrence Valley. "We had a lot of problems, so we just decided to lease for a few years."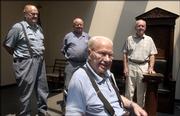 An open house will be held from 2 p.m. to 4 p.m. Saturday. A ribbon-cutting will be at 3 p.m. At 6:30 p.m., there will be a reception with refreshments. A formal hall dedication ceremony, performed by Kansas Grand Lodge officers, will follow at 8 p.m.
City officials and local state legislative representatives have been invited to attend the events.
Local Freemasons are hoping the new building and new look will help attract younger men to the organization. Although younger men, ranging in age from 23 to 43, have joined the Masons, more are needed to take the place of the older men, they said.
"There are two requirements," said Howard Duncan, 72, a longtime Mason. "You have to believe in God - whatever your religion might be - and you have to be of good character."
The Freemasons have sometimes been misperceived as a religious organization, but that is not the case, said John Golden, 88, another longtime member.
"We're not a religious organization, but we're based on religious principles," Golden said.
While local Freemasons like the new facility, the old downtown building still holds a special place in their hearts.
"This is a lovely facility, but I miss the old place," Duncan said. "You get attached."
Copyright 2018 The Lawrence Journal-World. All rights reserved. This material may not be published, broadcast, rewritten or redistributed. We strive to uphold our values for every story published.