They drink coffee and talk about their grandchildren. And more and more these days, members of Kansas University's Endacott Society grumble about the university they gave their lives to, wondering why it can't treat them with a bit more kindness.
"As I heard someone say: 'If you're retired, you might as well be dead to the university,'" said Arno Knapper, KU emeritus professor of business.
With the recent arrival to KU of new provost Richard Lariviere, society members now are hoping one of their biggest complaints might be resolved.
KU in 2005 repealed the long tradition of making parking permits free for retirees - despite a recommendation from the parking commission to keep the perk intact.
Then, this spring, KU increased the rates for retirees for 2006-07.
Critics of the fees say the money reaped by the move was dwarfed by the loss of good will.
"The University of Kansas will never realize what they lost," said Tom Mulinazzi, KU professor and head of the parking commission. "I think this has really developed some bad feelings."
Tom Eblen, retired general manager of the University Daily Kansan and Endacott Society president, said some hope the climate will change with the entrance of Lariviere - and a move to rescind the fees would be nice. Lariviere was unavailable for comment Friday.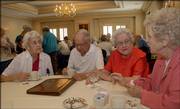 Parking isn't the only beef.
It's not that the retirees do nothing but sit around and complain about KU. But a variety of small issues have built up, some said, creating a general discontent.
Many said they feel the university has lost its heart, eroding support from a group that otherwise would be among KU's biggest champions.
"It's never formally discussed," Knapper said. "It's just an innuendo now and then and a comment now and then."
The concerns are varied: Concert ticket problems. Parking fees. The failure to keep retirees in the loop on university events.
"If they make us feel like 15th-class citizens, they're not going to have our respect and affection," said Elizabeth Banks, associate professor emerita of classics.
Many of KU's retirees flock to the Endacott Society, a group of about 400 members that get together for a variety of activities: Coffee on Wednesday mornings. Gardening seminars. Music hours. Lectures. Discussion groups on current events, public policy and other topics.
And bad news, such as the $75 parking fee for gold spaces that once were free, travels fast through the group.
About 660 retirees had parking permits before the start of the fees. The first year after the fees were imposed, that number dropped to about 330. The new fees brought in about $18,000 for that year.
"I don't think the university made any money on it at all and lost a lot of good will," Knapper said.
Some say the retirees weren't using the spaces all that much anyway. Some simply liked to drive through campus while out running errands. Some stopped in to speak with colleagues. They went to the library, the museum or the theater.
"This sort of thing angers people," Eblen said. "It upsets them. People who are upset are less likely to be leaving a lot of money. Of course, people who worked full time for the university didn't make a lot of money to begin with."
Some retirees simply hate being left out of the loop on university events.
Banks recalled stopping at campus one day and finding a College of Liberal Arts and Sciences publication that was distributed to alumni and others but not retirees like herself. As a retiree from the college, she was annoyed.
"I complained profusely about it to a couple of people," she said. "It's the mindset. Why not send it to the retirees and try to maintain their ties with the institution?"
Banks said she now receives the publication. And she and others also have worked to get e-mail notices of various university events.
"To ignore the retirees I just think is incredibly gross," she said. "It's disrespectful in the extreme."
There are still benefits to being a KU retiree. Each of them gets two free tickets for main stage events at University Theater, free access to Robinson Gymnasium, full library privileges, discounts at the Kansas Union Bookstore and other perks. Each also receives one free ticket for events in the Lied Center's Concert, Chamber Music and New Directions series.
Copyright 2018 The Lawrence Journal-World. All rights reserved. This material may not be published, broadcast, rewritten or redistributed. We strive to uphold our values for every story published.