The formal hallway within Adams Alumni Center fills up with laughter and the rich smell of freshly brewed coffee every Wednesday morning.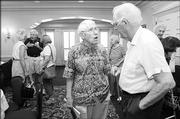 This can mean only one thing: The KU Endacott Society is gathering for another weekly meeting.
Previously known as the Retirees Club, the Endacott Society - named after its founder, KU Basketball Hall of Fame member Paul Endacott - began meeting in a small break room in 1981. Members would bring their own self-addressed postcards that would later be mailed back to them with information on the club's upcoming events.
Today, the Endacott Society comprises more than 400 retired faculty and staff members from Kansas University. The postcards have been replaced with a monthly newsletter.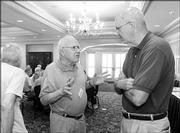 Society members can choose from a variety of activities such as computer study, gardening seminars and music appreciation. Other activities such as drama and cinema study keep members involved in academic discussions.
"You can be as active as you want," said Max Lucas, past president of the society. "Some are involved in four or five activities while some only one or two. Our interest groups start out as just that: A group that is interested in something. If it catches on, great. If it doesn't, that activity just phases out."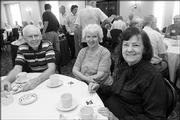 Membership in KU's Endacott Society also is extended to retired professionals from other universities, such as member Winnie Geissler, retiree from Kansas State University's English Department. In-state rivalry didn't prevent her from joining, but she nevertheless is exposed to a few harmless barbs from time to time.
Geissler admits a few members have poked fun at her choice of K-State, telling her that "everyone makes mistakes when they're young." It's all in good fun, though, she said.
Amid the friendship and the activities, the Endacott Society's greatest achievement is the amount of support for all its members.
"The nice thing about this group," said Edwyna Gilbert, the group's new president, "is that it's supportive."
Copyright 2018 The Lawrence Journal-World. All rights reserved. This material may not be published, broadcast, rewritten or redistributed. We strive to uphold our values for every story published.