Eating a brat leftover from some weekend grilling, I wondered what the heck I was doing to my cholesterol level.
That made me remember - I needed to call my cousin Joe.
I had learned through the family grapevine that Joe, who's in his early 50s, was recovering from triple bypass heart surgery.
"I'm doing fine," he told me over the phone.
I got around to asking him if he had been feeling any prior chest pains.
No, he said. He found out he needed surgery only after deciding to go in for a relatively new, quick and noninvasive medical diagnostic procedure.
The test?
A 3-D, high-resolution X-ray snapshot of your body's insides, taken by a 64-slice CT scanner.
"I'm telling everybody I know to get one," Joe told me. "It saved my life."
Looking inside
Later, I found that 64-slice CT scanners are the hottest new tools in medical diagnosis.
What's so cool about them? They take the idea of a CAT or CT scan (computerized axial tomography or computed tomography) to the next level.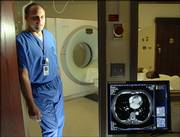 In normal X-rays, you get a shadow image from one direction.
With a CT or CAT scan, the body goes through a doughnut-like X-ray machine, and images are taken from hundreds of angles. A computer program stitches them together to form a 3-D image that can be dissected on the screen to see what might be wrong.
The CT procedure was invented in 1972. The first doughnut-shaped CT scanners were for head scans to detect brain trauma, tumors or aneurysms.
The machines have been enlarged to accommodate the whole body, enabling detection of a host of problems, from lung cancer to kidney stones.
Slicing the images
By 2000, the scanners had progressed to making four slices of the images they collected.
The slices allow medical professionals to take apart the image to see what's inside, like a slice from a loaf of bread.
The latest 64-slice scanners came out about a year ago, and hospitals across the country have been snapping them up like hotcakes.
Several hospitals in the area have them, including the Kansas University Medical Center in Kansas City, Kan.
Lawrence Memorial Hospital's board of trustees decided in November to buy a 64-slice Siemens model for just less than $1.2 million.
'Unbelievable'
I went to LMH to get a close-up view of the new scanner. I met with David Sostarich, director of imaging services and radiology, and Marc Schumacher, a lead CT tech.
They told me the hospital's cardiac scanner is the first of Siemens' top-of-the-line models to be used in the four-state area.
Schumacher called it "unbelievable" in the state-of-the-art images it can produce.
The patient lies on a table that moves through the doughnut hole of the scanner.
The movement of the table and the scanner are calibrated so a 360-degree scan is taken every 0.33 of a second, or basically between heartbeats. That eliminates any image blurring that might be caused by breathing or by a pumping heart.
After the scan is done from top to bottom, the scans can be reconstructed so images can be seen of the patient from front to back and left to right.
The software can reconstruct scans of organs, such as the heart, so you can see them in three dimensions, Schumacher said.
"We can actually rotate the image in any direction we want," he said. "We can see it from all sides and then we can actually slice through the actual organ that we're looking at."
The slices can be from 8 millimeters down to 0.6 millimeter - about as thick as three sheets of paper.
"It's a wonderful piece of equipment," Schumacher said.
Tossing a lifeline
After talking with my cousin Joe, I mentioned to my wife about getting a scan.
Was it covered by insurance? Unfortunately, not at this point, Schumacher told me.
The cost still is being decided.
He said the hospital is working toward full implementation of full coronary scans, which involve an injection to check the blood flow through the arteries, in the next couple of months. It probably will cost $1,500 to $2,000.
He said LMH is already doing cardiac scoring, which does a scan without an injection and checks to see if there's any significant calcification. Those go for about $200, he said.
I looked at the image on the computer screen, then back at the circular scanner.
With the hole in the middle, it reminded me of a familiar ring-shaped piece of candy - a Life Saver.
How could I not afford something that's already proven itself to be such a sweet piece of technology?
Copyright 2018 The Lawrence Journal-World. All rights reserved. This material may not be published, broadcast, rewritten or redistributed. We strive to uphold our values for every story published.