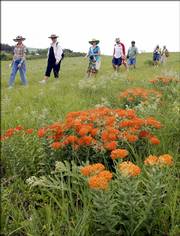 The Flint Hills of Kansas are in the same company as Washington's Olympia State Park, California's Big Sur, Pikes Peak National Forest in Colorado and the French Quarter of New Orleans as a travel destination.
That's according to the national Web site and search engine Yahoo! that recently ranked the rolling green hills of eastern Kansas as the fifth-best destination.
"It's a little bit of a surprise to me, but my guess is that Yahoo! was probably going to some lengths to come up with a bit of a surprise to stick in there. I'm not sure where they stumbled across this," said Alan Pollom, the state director for The Nature Conservancy's Kansas chapter.
The national recognition is part of a boost of attention this month to the area that contains the Tallgrass Prairie National Preserve in Chase County, about 90 miles southeast of Lawrence.
On Thursday, the Kresge Foundation in Michigan announced that a campaign designed to preserve large patches of the native tallgrass prairie will receive a $750,000 bonus if the Nature Conservancy's Kansas chapter reaches its $11 million goal by the end of 2007.
The conservancy has raised $8 million for the "Kansas Prairie Legacy Campaign."
The project in Chase County consists of about 11,000 acres, Pollom said, and conservationists are working with landowners through conservation easements.
Pollom said the recent national attention to the Flint Hills could help the organization pursue the final $3 million.
He also said the Yahoo! ranking could be attributed in part to the "Symphony on the Flint Hills," a performance on the prairie last month organized by a nonprofit group in a natural amphitheater that drew more than 6,000 people.
With other projects in line, the conservancy plans to set aside $5 million for the Tallgrass Prairie National Preserve. The conservancy owns the land and partners with the National Park Service and the nonprofit Kansas Park Trust to keep the area open to visitors.
-->
Copyright 2018 The Lawrence Journal-World. All rights reserved. This material may not be published, broadcast, rewritten or redistributed. We strive to uphold our values for every story published.