It was a strange and noisy sight to behold.
A demolition derby on a muddy track, metal against metal, motors racing and helmeted contestants doing their darndest to put one another's machines out of commission. But they weren't driving sleek racing automobiles - they were driving old combines that farmers once used to harvest grain.
"The Coffey County Fair is the oldest continuous fair in Kansas and this year it's 125 years old," said Grover Cleveland, a long-time Burlington demolition derby official, "so we thought having one heat in the derby devoted to combines would be kinda fun."
Coffey County area residents must have thought so, too.
Burlington has a population of about 3,000. Fair board member Kimberly Robrahn said her group estimated they'd sold about 3,500 tickets for the event. Lines at the ticket office began backing up in the late afternoon and those who came late had to stand for the four-hour event. Seats saved in the grandstand with coats or signs created a few arguments among the otherwise friendly crowd.
Photo Gallery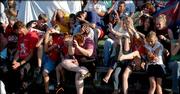 Combine Derby at the Coffey County Fair
It was nearly 9 p.m. and dark when six combines lumbered onto the watered-down and muddy fairgrounds track. They appeared slower than they actually were because they followed a heat of small pickups that had darted around the track like water bugs and were just about as effective.
The crowd cheered and booed from the first to the last collision. The drivers, strapped into their seats next to the grain hopper, had no view of what was going on at the rear of their combines or if anyone was approaching their vulnerable, small rear wheels responsible for steering their machines.
Shortly after the first combines collided, front-row fans got something extra to squeal about when a large mouse or a small rat, dislodged from his metal home, scampered across the edge of a combine's grain bin and out of sight.
The sound of grinding gears fighting very old clutches made nearly as much noise as the stocky old engines.
Finally, after nearly 30 minutes of sparring, sputtering and crashing, Jeff Chandler, Burlington, and his weathered orange Massey Ferguson claimed the $750 purse.
Jason Wagoner of Wichita drove a 1961 Massey Ferguson Saturday night. He worked for years chasing crops all over the country as a "custom cutter," harvesting farmers' crops.
"I've got mixed emotions about wrecking these old machines," he said before the race.
"But, I have to admit, there were times when I'd spent days driving one of these things that I wanted to wreck one in the worst way," he said grinning.
Copyright 2018 The Lawrence Journal-World. All rights reserved. This material may not be published, broadcast, rewritten or redistributed. We strive to uphold our values for every story published.