St. Paul, Minn. — They're promising to keep closer tabs on student lunch trays, pull sugary treats from vending machines and classroom celebrations and encourage more pulse-raising activities during the school day.
The nation's public schools are under orders to adopt nutrition and exercise goals before classes resume in the fall. The written wellness policies are required by a federal law that took effect July 1.
"Some school districts and school buildings have already made a lot of these changes and some have done nothing just because they've never been required to," said Alicia Moag-Stahlberg, executive director of Action for Healthy Kids, a 50-state nonprofit network. "Frankly, schools that have never had this conversation are having it."
The law's primary objective is straightforward: combatting rising childhood obesity rates. Overweight children miss more school than their average weight counterparts, according to the National School Boards Assn. Backers also argue that reducing sugar in students' diets leads to greater focus in the classroom.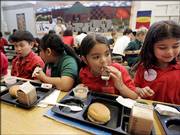 Some states are making similar efforts through new laws and policies, and the federal law gives school boards wide latitude, causing vast differences in their approaches.
In Tennessee's Williamson County, for instance, the broadly worded policy runs 23 lines; in Hampton, N.H., the five-page plan is so detailed it suggests elementary students have "at least two colors other than white and brown as part of their lunch meal."
Committees comprised of administrators, teachers, parents and students are looking well beyond the cafeteria for ways to promote healthier eating habits and more physical activity.
Many school districts are making clear that recess is valuable exercise time and shouldn't be withheld as punishment.
While school leaders and health advocates generally laud the law's intent, concerns do exist.
Congress didn't give schools money to implement the policies or offer compensation for the potential loss of vending sales proceeds.
An Illinois education panel noted another barrier: Schools have difficulty setting aside time from their other pressing priorities such as the federal No Child Left Behind law, which carries consequences if students don't show progress in core subjects.
The wellness directive requires school districts to measure progress but doesn't contain consequences for those that don't live up to the law.
"I don't think the federal government put enough teeth into this," said Dunham, the elementary principal. "We are accountable basically only to ourselves. In some school districts, I could see this going by the wayside."
And don't expect the wellness policies to, um, bear fruit overnight.
"It's like eating an elephant," said Brenda Greene, the National School Board Assn.'s director of school health programs. "You need to do it one bite at a time."
Copyright 2018 The Associated Press. All rights reserved. This material may not be published, broadcast, rewritten or redistributed. We strive to uphold our values for every story published.