The Aug. 1 primary election in Douglas County begins today as advance voting gets under way at the courthouse.
Anyone wanting to cast their primary ballot without waiting a couple of weeks to go to the polls on election day can go to the county clerk's office in the courthouse, 1100 Mass., between 8 a.m. and 5 p.m. Monday through Friday.
The office also will be open for voting from 9 a.m. to noon Saturday, July 29.
Convenience is the main reason people want to vote in advance, County Clerk Jamie Shew said.
"I think a lot of people advance vote right now because they are going to be on vacation," Shew said. "For Lawrence, a lot of people also work out of town, so they advance vote."
As far as local primary races, only voters in Wakarusa and Palmyra townships will have one on their ballots. Both involve same-party candidates running for township clerk.
Republicans Janet Ballinger and Don Johnson will be on the Palmyra ballot. Democrats Gerald Dwyer and Charles V. Williams will be on the Wakarusa ballot.
Eudorans will decide a referendum on a $3.8 million swimming pool and recreation center complex. In addition to picking up their Republican or Democratic primary ballot, voters will be handed another ballot with just the question of whether to approve the pool and recreation center.
The primary also will mark the first time Douglas County voters will use their new voting machines. Voters will still mark paper ballots as they have in the past. The difference will be in the equipment that counts and keeps track of the ballots. A new machine allowing people with disabilities to vote without assistance also is available for use.
The voting machines are on display in the first floor lobby of the courthouse next to the clerk's windows. People can test the machines by voting for their favorite ice cream, Shew said.
Testing and training on the new machines with polling place workers has been completed and the process went well, Shew said.
The county has a new Web site that contains information about elections at www.douglascountyelections.com.
"In the old system, citizens needed to navigate through multiple pages on the Douglas County Web site in order to get election information," Shew said. "This is the first step in creating a new Web presence for our office."
Included on that Web site is a downloadable application form for people who want to advance vote by mail. Applications must be received by July 28.
Voter registration for the primary ends Monday. The clerk's office will be open until 7 p.m. to handle last-minute registrations.
Other counties
Voters in nearby Jefferson and Franklin counties will have primary races for county commission seats.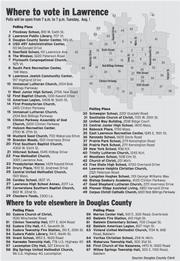 In Jefferson County, 1st District Commissioner Lynn Luck, the Republican incumbent, is being challenged by Donald Edmonds.
In Franklin County, the primary is necessary because of three races. They are:
District 1: Incumbent Donald E. Waymire and Sue Farrell, both Republicans.
District 4: Incumbent Donald C. Hay and Larry L. Thurston, both Republicans.
District 5: Incumbent Donald R. Stottlemire, and Larry W. Skeet and Norm Wooge, all Republicans.
State races
State primary races are:
Governor and lieutenant governor, Republicans:
¢ Jim Barnett and Susan Wagle
¢ Ken Canfield and Kathe Decker
¢ Rex Crowell and Brian D. Shepherd
¢ Dennis Hawver and Bret D. Landrith
¢ Robin Jennison and Dennis Wilson
¢ Timothy V. Pickell and Jeffrey A. McCalmon
¢ Richard Rodewald and Helen D. Kanzig
Secretary of State Democrats
¢ Robert Beattie
¢ David Haley
Republicans
¢ Ron Thornburgh
¢ Kay O'Connor
Insurance Commissioner Republicans
¢ Sandy Praeger
¢ Eric Carter
State Board of Education
Democrats
¢ Janet Waugh
¢ Jessie Hall
Copyright 2018 The Lawrence Journal-World. All rights reserved. This material may not be published, broadcast, rewritten or redistributed. We strive to uphold our values for every story published.