Olathe — Free State High football players weren't in shoulder pads or permitted to tackle anyone Monday night.
They were awarded just one point for a touchdown.
Clearly, this was not a typical Friday night high school football game.
Free State participated in 7-on-7 passing drills at Mid-America Nazarene University. It tied Olathe South, 2-2, and Blue Valley, 1-1.
The drills primarily enabled teams to test their passing offenses and defenses. Running the ball was not allowed. There were no offensive or defensive lines. Instead, quarterbacks, running backs and receivers lined up against linebackers, cornerbacks and safeties.
Two-hand touch was the method of "tackling."
Coaches kept a running clock to 25 minutes.
"It's a matter of learning what to do," Chuck Mosley, Free State wide receivers and inside linebackers coach, said. "Where am I supposed to be? What is the route I'm supposed to run? And practicing that until it becomes second-nature, so when there's a play called, you get there and you don't even have to think about it."
Photo Gallery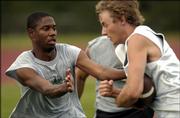 Free State football
Mosley said 16 of 40 players attended the drills. One of the players who benefitted from the drills was quarterback Craig Rosenstengle.
The junior-to-be took most of the repetitions under center. Senior Ryan Murphy is still the team's quarterback, but this gave Rosenstengle a chance to throw against local defenses.
Rosenstengle was 8-of-14 passing in the second game against Blue Valley. During one specific play, he hit senior Brian Murphy on a 10-yard pass in the middle of the end zone. Touchdown - or so he thought.
A Free State coach called the touchdown back because Rosenstengle held onto the ball for six seconds, which was too long. One of the main purposes of the drill was for quarterbacks to make timely, quick reads.
LHS drills postponed because of wet grounds
The Lawrence High football team's seven-on-seven passing drills were postponed Monday because of muddy fields. The Lions were scheduled to face Shawnee Mission Northwest at 6 p.m. and Olathe Northwest at 7 in Overland Park. The 25-minute simulations were called off, however, after rains soaked the Overland Park Aquinas High football field. The games have been re-scheduled for July 17 at the Aquinas field. Lawrence finished with a 10-2 record last season, advancing to the Class 6A semifinals. It was the Lions' best mark since 1995.
Rosenstengle had difficulty with this another time in the first game against Olathe South. He checked off three to four different receivers before he threw the ball. During the regular season, he wouldn't likely have that much time in the pocket to throw.
Rosenstengle redeemed himself. He connected with Brian Murphy on a two-yard score in the second game. Murphy ran horizontally along the front line of the end zone, extended his arms as far as they could go and dove on the grass for the touchdown. Rosenstengle connected on his first six passes against Blue Valley.
Murphy said he saw zone defense for most of the night. Typically a running back, he said the intent against a zone was to isolate the opposing safety and force that player to make difficult decisions.
"We're going to play a lot of these teams during the season, so it's good now to recognize what they're going to do," Murphy said. "When the season comes, we'll be better prepared."
Ryan Murphy said he wanted to generate an intense atmosphere, similar to regular-season games.
"It still gets pretty physical out there," Murphy said. "I really don't look at it any different. I play the same way."
Copyright 2018 The Lawrence Journal-World. All rights reserved. This material may not be published, broadcast, rewritten or redistributed. We strive to uphold our values for every story published.