A team of researchers is fighting ovarian cancer, one submicron-sized drug particle at a time.
CritiTech, working out of a tiny laboratory in a nondescript building in west Lawrence, is getting ready to start testing its own reformulation of a cancer drug that - so far, at least - carries all the effectiveness of the base cancer drug but without its side effects.
The reformulation, called Nanotax, uses an innovative process to shrink the size of the drug's particles. And that means that a toxic solvent normally used to carry cancer-fighting medicine into the body can be exchanged with a much less disturbing delivery vehicle: saline solution.
That's right, water.
"It's a slam dunk," said Matt McClorey, chief financial officer for CritiTech. "We can actually increase the dosages of the drug and eliminate the toxicity profile. If it works in humans the way it worked in animals, this could be a huge, huge success."
But adding water to a cancer drug - one that produces $1 billion a year in sales - is no simple matter. There are more directions that need to be followed.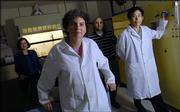 While its Investigational New Drug application has been filed with the Food and Drug Administration, CritiTech still needs to work through an imposing run of regulatory and business-related tasks before bringing its product to market.
Discussions with FDA officials in Washington have CritiTech leaders hoping to embark on human clinical trials of Nanotax later this year. The company already has arrangements in place with Aptuit in Kansas City, Mo., to manufacture small batches of Nanotax and with physicians at KU Medical Center in Kansas City, Kan., to test the drug with patients.
If the reformulated drug performs as hoped, Nanotax then would be ticketed for phase 2 clinical trials, a process to test the effectiveness of the drug. The trials could cost more than $10 million and usher in a partnership with a major pharmaceutical company, perhaps even one of those that already has a relationship with the company spun out of Kansas University's Higuchi Biosciences Center.
CritiTech officials are optimistic that Nanotax might even be effective fighting other abdominal cancers.
"It's extremely promising," said Carolyn Shelton, contracts manager.
The company is growing. Just last month it added three pharmaceutical companies to its list of clients and has plans for at least doubling its lab space and adding two more employees.
Jahna Howell, director of laboratory operations, agrees. She cites studies that show that only 44 percent of patients with ovarian cancer survive for five years, compared with nearly 90 percent for patients with breast cancer.
With 26,000 new cases of ovarian cancer in the country each year, she knows there are plenty of people whose lives one day could be improved, lengthened or even saved through the use of Nanotax.
"It's exciting," she said, during a break from work in the lab. "I feel like this is something that could really (push) forward cancer research (and treatment)."
Market deliveries
CritiTech isn't alone in working to boost the efficiency of drug-delivery systems. Here are three cases of how major drug companies used technology from other drug-delivery companies to improve existing medications: ¢ Concerta. A growing product for the treatment of attention deficit hyperactivity disorder (ADHD), Concerta sales were $67.9 million in 2000 and last year were cited as among several products contributing to Johnson & Johnson's overall increase in global sales. Concerta uses an osmotically active trilayer core surrounded by a semipermeable membrane to allow for controlled-release delivery of the medication. ¢ Exubera. An inhaled insulin product for the treatment of diabetes, the pulmonary delivery system administers fine, dry-aerosol powders to the deep lung. From the lung, the aerosolized insulin is transported through the lung tissue to the bloodstream for systemic distribution. Analysts expect sales of Exubera to reach $1.5 billion by 2010. ¢ Avonex. Provides a non-injectable and easier-to-administer treatment alternative for people with multiple sclerosis. In the first quarter of 2006 alone, Avonex - the flagship drug for Biogen - generated sales of $393 million, up 5 percent from the same period a year earlier. Based on such cases, CritiTech figures that 15 percent of major pharmaceutical companies' research-and-development budgets will be spent on projects incorporating drug-delivery systems. More than half of those projects will be expected to focus on non-oral delivery, the segment that CritiTech's nanoparticulate technology is designed for.
Copyright 2018 The Lawrence Journal-World. All rights reserved. This material may not be published, broadcast, rewritten or redistributed. We strive to uphold our values for every story published.