The FBI says it's cleared Lawrence Police of an allegation that an officer impersonated an FBI agent during the investigation of an alleged fencing operation at the Yellow House used appliance store.
"We looked into the situation and found no evidence to indicate that anyone impersonated an FBI agent," FBI spokesman Jeff Lanza said Friday.
The news came the same day the U.S. Postal Inspector's office, assisted by Lawrence Police and the Internal Revenue Service, served two more search warrants at the store at 1904 Mass., and at the home of owners Guy and Carrie Neighbors in the 1100 block of Andover Street.
Authorities said they were looking for e-mail records, surveillance tapes, receipts, computers, sealed merchandise and sales records from the online auction service eBay.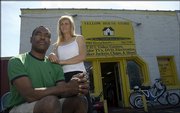 It's the latest twist in an investigation that's been going on since December, when Lawrence Police said they'd uncovered what they describe as a large-scale, sophisticated fencing operation. So far, there have been at least five search warrants served, but no one has been arrested and no charges have been filed.
"I think this whole thing is around our eBay sales," Guy Neighbors said on Friday as he stood outside his store, which was surrounded by yellow police tape. "It's been, what, eight months now? I don't know. Maybe they have more than I know."
The Neighborses maintain their innocence and have been critical of police at every turn.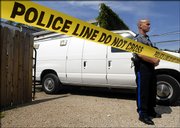 "I feel like if you don't have anything to hide, you weren't committing any crimes, why would you need to be quiet?" Guy Neighbors said.
They went as far as to produce a sworn affidavit earlier this summer from a woman who said a Lawrence Police officer had impersonated an FBI agent in an effort to get her to take stolen property into the store. That prompted the investigation that Lanza said Friday had ended with no finding of wrongdoing by police.
"We were confident in what their findings would be, but we were willing to let them do their job and find out if we were doing anything wrong or not," said Lawrence Police spokesman Sgt. Dan Ward.
On Friday, the Neighbors' attorney, Sarah Swain, and members of her staff stood in front of the store holding signs that urged passers-by to honk if they supported the store. One sign read "Investigate police corruption."
"I think that this search today was one thing and one thing only, and that was retaliation for going to the FBI to get the FBI to investigate," Swain said.
Swain said that as far as she knew, FBI agents never interviewed the woman who alleged an officer had impersonated an FBI agent. Lanza would not go into detail about what the investigation involved or whom agents had interviewed.
Copyright 2018 The Lawrence Journal-World. All rights reserved. This material may not be published, broadcast, rewritten or redistributed. We strive to uphold our values for every story published.