Police searched a local used appliance shop again Monday as part of a stolen property investigation.
But a shop owner said the search was police harassment aimed at closing the business.
Police Sgt. Michael Monroe, along with police detectives and officers, examined financial documents in the Yellow House Store, 1904 Mass., seeking records about a stolen air compressor apparently sold there sometime during the past month.
Monroe said the search was not connected to a previous probe into possible stolen goods bought and sold at the store.
"This isn't exactly related," Monroe said.
On Dec. 2, police raided the store and the home of its owners as part of a fencing ring investigation police at the time labeled one of the largest, most sophisticated operations in the city.
But Monroe said the search warrant served Monday focused purely on financial documents related to a separate stolen property probe and did not involve merchandise currently in the store.
Carrie Neighbors, who owns the store with her husband, Guy, said the store bought the air compressor before finding out it was stolen. She said a man came in and sold the compressor seemingly without issue until the man's father reported the item stolen.
Neighbors said she considered the search warrant and scrutiny of the store's books harassment by police.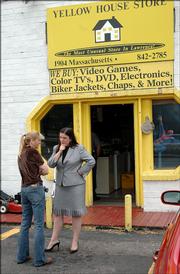 "They're trying to put us out of business," Neighbors said.
Sarah Swain, the Neighbors' attorney, sat with police as they examined the store's financial records.
Swain said police were simply grasping at straws, trying to find new clues in a fencing investigation that has been stalled for months.
"They have no evidence of crime being committed," Swain said. "It's a waste of taxpayers' money."
Since police served an initial search warrant on the store Dec. 3, police have not had much contact with the Neighbors except to return merchandise and documents seized in the raid, Carrie Neighbors said.
Last month, fliers appeared around the city, claiming police had posed as Federal Bureau of Investigation officials when conducting interviews regarding the fencing probe.
The fliers asked those with information about the case to call a number, which then linked to a police detective's cell phone.
Police denied they had posed as federal agents, and Swain said that she met with both FBI officials and Lawrence Police and determined that the FBI was not involved in the investigation.
Copyright 2018 The Lawrence Journal-World. All rights reserved. This material may not be published, broadcast, rewritten or redistributed. We strive to uphold our values for every story published.