Jumping jacks, push-ups, sit-ups and trips up and down the Memorial Stadium steps are all in a day's workout at Red Dog's Dog Days.
During the noon-hour exercise session Wednesday, Don "Red Dog" Gardner shouted encouraging words through his megaphone to about 150 Lawrence and area residents, who broke into a sweat on the Kansas University stadium's turf.
July means things are stepping up for the participants and organizers at Dog Days - now in its 23rd year.
"No matter what level of exercise you are on, you don't feel alienated," said Diane Casady, a third-year participant and Lawrence resident.
Gardner, a retired Lawrence police officer; Jim "Punkin" O'Connell, then a police dispatcher; and Leslie Smith, Gardner's daughter, originally started the summer conditioning session for Lawrence High School football players.
Photo Gallery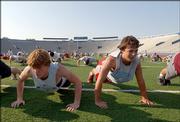 Red Dog's Dog Days
Since 1984, it has grown from six or seven athletes into a community event with scores of people joining the twice-daily sessions in June and three-times-a-day workouts in July and August.
Dog Days has countless success stories of weight loss, injury rehabilitation and even a marriage proposal earlier this year, when Matt Lehrman called out on the megaphone to his girlfriend, Adrianne Graham, of Lawrence, who was busy running stairs.
"We knew she said 'Yes,' because she flew down the steps and into his arms," Gardner said.
Wednesday's workouts began the new schedule of 6 a.m., noon and 6 p.m. Mondays through Thursdays at Memorial Stadium. Participants register with leaders, including Gardner's wife, Beverly. Anyone who attends 25 summer workouts through Aug. 10 will earn a coveted Dog Days T-shirt.
About 150 people attended the noon session Wednesday, and about 350 showed up in the morning, Gardner said. The morning and evening workouts typically each average about 500 people. The current record is about 640 people at a June workout.
Gardner said he hopes participants are able to run up and down Campanile hill four to five times by the end of the summer - hence, all the stair training.
The Free State High School football team and LHS cheerleaders are using Dog Days for conditioning this summer.
FSHS senior tight end and major-college recruit Christian Ballard sat down drenched in sweat after the noon workout Wednesday.
"I think it is going to do wonders for us. He really tries to push us," said Ballard, who has attended Dog Days workouts off and on since he was a fifth-grader.
Gardner said he's amazed at the program's longevity and growth.
"I don't know if I can do this for another year," he said.
But Catherine Glidewell, a leader and organizer, didn't flinch when she heard that.
"He says he's not going to do it again every year," she said.
Red Dog's Dog Days program schedule
¢ 6 a.m., noon and 6 p.m. Mondays through Thursdays at Memorial Stadium (ends Aug. 10). ¢ 7 a.m. and 7:45 a.m. Saturdays, Lied Center. ¢ New participants are welcome to check in for the free workouts at the stadium's southeast corner: "Show up a little early. Check in with the girls. Let us know that you are new, and take it easy the next couple of days," said Don "Red Dog" Gardner.
Copyright 2017 The Lawrence Journal-World. All rights reserved. This material may not be published, broadcast, rewritten or redistributed. We strive to uphold our values for every story published.