The plans call for five stories of brick and steel with underground parking in the space where a popular college beer joint and sandwich shop now sit.
Say hello to what could be the new doorstep of Kansas University.
Plans submitted to City Hall reveal a retail and commercial complex similar to downtown's Hobbs-Taylor Lofts, but at the intersection of 12th and Indiana streets where Yello Sub and The Crossing bar occupy a building complex that has been there for more than 90 years.
"They're quite impressive, and aggressive," said Jeff Morrow of the new plans. Morrow owns the building that houses the Yello Sub.
Details of the plan, submitted by Manhattan-based developer Robert Pottroff on behalf of Morrow and Pottroff's development partnership, Skyscapes of Lawrence LLC, are similar to the Hobbs-Taylor Lofts,750 N.H., in several ways: The new complex would including two- and three-bedroom condominiums with retail and commercial tenants filling the first-floor storefronts.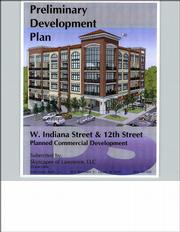 Pottroff could not be reached for comment Wednesday.
Preliminary plans also show a building that would stretch more than 80 feet into the air and replace parts of existing structures with streetside parking lots, benches and fountains.
Those existing structures include the buildings that house Yello Sub, The Crossing bar, a hair salon and an apartment complex along Indiana Street.
Being neighborly
Morrow said he did not take part in the design or layout process - Lenexa-based Incite Design Studio rendered the plans - but that he liked the design and hoped it would act as first step in the long process of being reviewed by various city boards.
"It gives us a good starting point for a conversation with neighbors and the city," Morrow said.
On June 17, project developers made a presentation to the board of the Oread Neighborhood Assn. At this point, board members are looking at having developers give a presentation to Oread neighbors at the next association meeting Aug. 17.
James Dunn, president of the Oread Neighborhood Assn., said the neighborhood was waiting to learn more about the possible high-rise condominiums and the commercial plans. During the June meeting, board members had questions about parking and the possible effects on property valuations, he said.
No one so far has voiced a strong opinion for or against the project, said Dunn and Jodi Wente, coordinator for the neighborhood association.
"I think the board's realistic enough to realize that that corner's changed a lot, and it's not used as densely as it once was," Dunn said.
Place
624 W. 12th St., Lawrence
-->
-->
City staff members have not had an opportunity to examine the plans but said the Historic Resources Commission and Lawrence-Douglas County Planning Commission eventually would discuss the proposed development in public meetings. The first hearings could be in August, city staff members said.
The land likely would have to be rezoned to accommodate a multiuse facility, a process the Planning Commission would address.
Preliminary design
Morrow said he supports the high-rise aspect of the plan, though other design elements likely will have to be revised.
For example, Morrow said the lack of outdoor seating evident in the preliminary plans wouldn't fly at that intersection. Plus, there is no indication of any fenced-off outdoor space for a possible beer garden, whether it be The Crossing's or something else.
"There are some design issues that need to be addressed," Morrow said.
As the development moves forward, the futures of the Yello Sub and The Crossing will likely be addressed, too. Morrow indicated he thought both businesses could be included in the new structure, but Pottroff hasn't indicated whether the two campus cornerstones would be welcome tenants in a new building.
Dave Boulter, co-owner of The Crossing, wasn't in Lawrence when contacted Wednesday and said he hadn't seen the building designs.
But he said visualizing a bar like the Crossing in a new, condo-style high rise was a struggle.
"It's kind of hard for me to imagine that," Boulter said.
The Crossing's lease ends late next year, and Boulter recently has entertained offers to sell the bar business.
Morrow also said he had spoken with Yello Sub owner Bob Jones and assured him he has not sold the building.
Jones said he hadn't started sweating the future of his business. He has a long-term lease in place, and he sees Pottroff's plans as testing the boundaries of what can and can't be done with the intersection.
"This is like fishing with the city to see if this is even possible," Jones said. "I'm not thinking anything. I don't anticipate going anywhere."
Copyright 2018 The Lawrence Journal-World. All rights reserved. This material may not be published, broadcast, rewritten or redistributed. We strive to uphold our values for every story published.