A planned new development at 12th and Indiana streets on the fringe of the Kansas University campus may mean big changes for Yello Sub, a longtime favorite sandwich shop for students and other residents.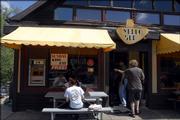 But the owner of the Yello Sub property said he's not worried about plans by a Manhattan attorney to turn the corner into a new, mixed-use development.
"Let's put the whole project into play, and let's see what we can come up with," property owner Jeff Morrow said.
The Journal-World reported last week that Manhattan-based developer Robert Pottroff purchased the building that houses The Crossing bar from Lida Martin and other nearby property in hopes of redeveloping the corner.
Morrow admitted his old building housing the sub shop has its problems. It's a fully depreciated, 90-plus-year-old site with a cracking roof and a "funky" basement - and if Pottroff has a solid plan, Morrow said he's on board.
"I told (Pottroff) that I'm totally supportive," Morrow said. "I think there's a really good, tasteful new building that can be done there."
So supportive, in fact, that Pottroff said Morrow could soon become a member of his newly incorporated development company, Skyscapes of Lawrence, LLC.
"I'm going to sit down and have some good conversations with Jeff in the next couple days," Pottroff said. "You can anticipate that he'll be a member of that group."
Currently, Skyscapes owns The Crossing building, an adjoining apartment complex and other lot portions at the corner, county records show.
Morrow wouldn't comment on possibly joining the partnership, except to say he'll take a wait-and-see approach to possible buy-out offers and development plans.
Morrow wouldn't say what may happen to the Yello Sub aside from noting that a long-term lease exists with the sandwich shop's business owner, Bob Jones.
Jones said he hasn't heard much about the development plans except what Morrow has told him.
Place
624 W. 12th St., Lawrence
-->
-->
"There are lots of rumors," Jones said. "I don't know what to believe."
Jones said he has a multiyear lease for the place, but business hasn't been good recently, and he expressed doubts about the sandwich shop's viability in that location.
"It's no secret that we don't do as well as we used to," Jones said.
Regardless what happens to the aging building, Jones said that between the Kansas Union's food court cutting into sales and students generally spending less money, he may consider moving the shop closer to the heart of the city.
"If I had the opportunity to move it downtown, I might. I'd have to consider it," Jones said.
Pottroff said he plans to submit preliminary sketches of his proposed development to Lawrence city staff later this week and that the revamping of the corner would move on from there.
"We won't rush in and do anything that will hurt the tradition of that spot," Pottroff said.
Copyright 2018 The Lawrence Journal-World. All rights reserved. This material may not be published, broadcast, rewritten or redistributed. We strive to uphold our values for every story published.