Kansas City, Mo — A federal grant has allowed Kansas to begin a methodical look at ways to improve security at all 110 of its county courthouses.
The effort is believed to be the first of its kind in the nation using grants from the State Justice Institute, which was created by federal law to find solutions to problems common at courthouses throughout the country.
A pilot project began last fall in Kansas, but the effort will accelerate soon when Kansas Homeland Security begins courthouse-by-courthouse inspections.
The inspections are designed to determine how well each courthouse is prepared for threats ranging from a shooting or terrorist attack to a natural disaster.
"Security has been on everybody's ... mind for many years, and this is finally an opportunity to take a very good and detailed look at it," said Ron Keefover, spokesman for the Kansas judiciary.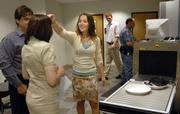 The State Justice Institute, which made the $85,000 grant to Kansas for the program, hopes other states will follow Kansas' lead in starting the program, said Kevin Linskey, executive director of the institute, based in Alexandria, Va.
"Eighty-five thousand is the nominal cost of this thing, but in the end, when in-kind costs of people's time and effort is tallied, it's going to be a multi-hundred-thousand initiative," Linskey said. "This is really a hard-core effort to do the kind of spade work that's not particularly interesting ... but is essential if you are going to do it right."
A 10-member committee with representatives from such groups as the Kansas Sheriffs Association, the Kansas Association of Counties and Kansas Homeland Security will oversee the effort.
Five courthouses have been inspected as part of the pilot program and inspections of the remaining courthouses and for 20 court service buildings are to begin in September, Keefover said. Each of Kansas' 105 counties has a courthouse; five counties have two.
A report detailing the inspections' findings is expected by next May.
Besides looking at threats to people, the inspectors will look at how well a courthouse protects its paper records and computer files. And they will ask how a courthouse would function if pandemic flu struck its employees, Keefover said.
Linskey said the idea for the security review began during a conversation he had with Steven Leben, a district judge in Johnson County and president-elect of the American Judges Association. They discussed the fact that the U.S. Marshal's office had inspected the nation's federal courthouses and wondered why a similar effort couldn't be done on the state level.
After Kansas was awarded the grant last September, the Kansas Supreme Court contributed $53,130.
However, finding for specific courthouse improvements would have to come from the counties. Under current law, the state could give money related only to personnel needs, Keefover said.
Copyright 2018 The Associated Press. All rights reserved. This material may not be published, broadcast, rewritten or redistributed. We strive to uphold our values for every story published.