Lawrence's lawn-waterers set a record last month.
"We used more water in June than we have in any other June for as long as the city's been keeping records - that's a long time," said Chris Stewart, the city's acting utilities director.
The record, Stewart said, is tied to more people watering more lawns.
"It's due to irrigation," he said. "For the month, we were about 100 million gallons over what we usually do."
That equates to about 200 swimming pools the size of Lawrence Outdoor Aquatic Center, he said.
"We average 18.25 million gallons a day," Stewart said. "The 100 million is on top of that."
Lawrence recorded a little under 5.25 inches of rain in May and June, according to the National Weather Service.
"That's the seventh-driest May and June that we know of," said NWS meteorologist Kyle Poage. "Our records go back to 1887."
Historically, the region's May-June average rainfall is close to 9.25 inches.
Photo Gallery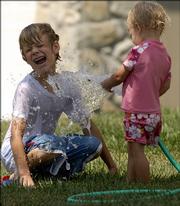 Dry June
"It's pretty dry," Poage said. The Lawrence area's driest May-June, he said, was 2.44 inches in 1901.
In May, Lawrence had about four inches of rain; in June, a dismal 1.14 inches.
Currently, the city's water treatment facilities are operating at "close to 80 percent capacity," Stewart said.
"When we start getting close to, say, 90 percent, we'll be talking to our larger irrigators about voluntary conservation," he said. The group, he said, includes Kansas University, Haskell Indian Nations University, the golf courses and the city's Parks and Recreation Department.
"If that doesn't get us to where we need to be, we'll go on to the next phase," he said, referring to restrictions on nonessential water use.
Stewart said he had no way to know when - or if - restrictions would be imposed. "I don't have a crystal ball to know how much longer this dry spell is going to last," he said. "But I'm working on a memo right now to let the City Commission know where we are."
Lawrence draws its water from the Kansas River and from Clinton Reservoir. Both supplies, Stewart said, are "in good shape."
Agriculture worries
The same cannot be said about the area's corn and soybean crops.
"For every day that goes by without rain, it's looking worse and worse," said Douglas County Extension Service Agent for Agriculture Bill Wood.
"Soybeans, right now, ought to be two feet high," he said. "They're probably a foot high."
The seed corn crop - not to be confused with sweet corn - is at the stage, Wood said, where the plants "decide" how many kernels to "put on the cob."
He's not optimistic. "The way things are now," Wood said, "I'm afraid there won't be many kernels on the cob - and that assumes the plants survive. They may not."
He added, "It's not going good."
The drought also has taken a toll on area lawn crews.
"It's definitely hurt. The grass isn't growing, there's less to mow," said Maria Gibson, office manager at Willowridge Landscaping. "We haven't laid anybody off, but we just had a guy quit to take a job where he can get more hours. He won't be replaced right away."
Gardeners, too, are reeling.
"It's very dry - I don't know how else to describe it," said Ken Lohrentz, a certified master gardener and Lawrence resident. "I'm watering frequently."
At Clinton Parkway Nursery & Garden Store, 4900 Clinton Parkway, owner Ann Peuser said she's worried about what's ahead. "What concerns me," she said, "is that it's a lot hotter and drier earlier than usual. We still have all of July and August to go, and they're our hottest and driest months."
Winter Weather
Winter weather information
Peuser, Lohrentz and Wood offered a few lawn-watering tips:
¢ Water in the morning rather than early evening.
"As a general rule, it's better that a plant's leaves be dry at night - you want them dry at night, wet in the morning," Wood said. "It lessens the likelihood of fungus and disease."
¢ Water thoroughly once or twice or week rather than a lesser amount each day.
"It's better to water more less frequently than it is to water less more frequently," Lohrentz said.
An inch of water, he said, is considered thorough and enough to keep a lawn alive.
¢ Don't forget the trees. "Chances are your lawn is going to come back," Wood said. "Your trees may not."
¢ "Mulch keeps the soil cool and the moisture in," Peuser said. Also, garden stores now sell "Tree Gators," nylon bags that fill with water, leaking slowly into the ground over four or five hours.
Copyright 2018 The Lawrence Journal-World. All rights reserved. This material may not be published, broadcast, rewritten or redistributed. We strive to uphold our values for every story published.