Jon Wagler knew he'd hit it well. He was thinking triple all the way. But on his way to third base, fate - and ag lime - intervened.
"I ran around first, and my foot slipped," Wagler said. "I stumbled a couple steps, went down and landed awkwardly on my arm."
Now, his dislocated shoulder in a sling - and $3,500 in medical bills later - his season is lost, and he's relegated to the cheering section and base coach. It's a situation he attributes to a new playing surface this year at the Clinton Lake Softball Complex, which city leaders say is in place to reduce rain outs.
Agriculture limestone, known in softball circles as "ag lime," now covers all four infields at the complex, the city's hub for adult leagues, invitational tournaments and occasional youth competitions that draw teams from across the country.
"We were having complaints of lots of rain outs with the old material. We'd (put ag lime) on some of our other fields and it was working well," said Rod Hoffer, field supervisor for Lawrence Parks and Recreation.
Hoffer, who plays on the fields himself, said he's heard a few complaints, but said there are steps players can take to adapt to the fields. For example, switch to turf shoes, often used by football players for games on Astroturf and other hard surfaces.
"Changing the shoe could make some of that (better)," Hoffer said. "Obviously, if you wear a hard spike, it's not going to accept it very well on this. (Hard spikes) work great in the grass, but on (ag lime), it's going to be a little bit different."
Ag lime, designed to drain rapidly, is a naturally harder surface than the traditional clay mix that covered the infields at the complex for its first nine years. Ag lime fields also take less time, money and labor to maintain, Hoffer said.
Hoffer said the initial costs of putting in the ag lime infields is about $10,000 less than the mix used in previous years.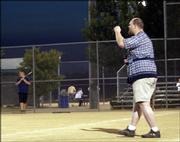 The new infields also allow the three-man crew that cares for the Clinton Lake softball fields to do more work caring for 1,600 acres of city-owned park land. Last year, the crew spent much of its time caring for the Clinton Lake facility.
Sprinklers run overnight to dampen the softball fields, and Hoffer and his crew drag the surface to create a fluffy cushion of about a half inch of loose material on top.
"It plays faster and better," Hoffer said, noting that Mother Nature isn't wreaking havoc on the schedule as much as in past years.
One night earlier this season, four hours of drizzle couldn't cancel - or even delay - contests on all four fields.
"We've played on times that we normally wouldn't have played," Hoffer said.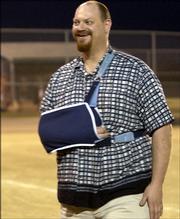 Such steadfast scheduling can force other sacrifices that some players would rather not make.
Andy Hom, a shortstop who has played for seven seasons at Clinton Lake, was forced to the bench earlier this season when he slipped and jammed his thumb while pursuing a ground ball.
The way he figures it, bad hops and washed-out games are as much a part of the game as picking up extra players. But getting injured on what should be the least-threatening of moves - approaching a grounder, not fielding it; or running the bases, not sliding into them - is difficult to justify.
"To me, you don't play softball or really any outdoor sport in northeast Kansas and not expect to get rain outs," Hom said. "I'd take the rain outs and have better field conditions when we do play."
Get more
See the full story on 6News at 6 o'clock Tuesday and 6Newslawrence.com
Hoffer figures players already are adjusting to the new surface, just as they adjusted to the new complex and its fences backed up to 300 feet nearly a decade ago.
"It's a give and take situation," Hoffer said. "I don't know if there's a perfect playing surface out there. Everything's got a price to it."
Wagler knows all about paying the price. In addition to the medical bills, missing work and the season, he's missing out on the fun, too.
"You want to be out there with your team and play and get rid of some of the frustrations of the week, but you just have to sit there and watch," Wagler said.
More about Lawrence Parks and Recreation
Copyright 2017 The Lawrence Journal-World. All rights reserved. This material may not be published, broadcast, rewritten or redistributed. We strive to uphold our values for every story published.