Powerlifter Brady Tanner and swimmer Becky Saathoff, both of Lawrence, took turns pumping each other up Friday afternoon just before the bus came to take them to the first Special Olympics USA National Games in Ames, Iowa.
"Brady, are you ready?" Becky, 25, asked.
"I'm ready. I'm ready to go," Brady, 26, said.
Brady held his hands out for a double high five from his teammate and best friend since fourth grade. Some friends ambushed the two Special Olympians with Silly String.
At the Lawrence Holidome, a group of more than 20 friends and family members clapped and cheered on the two competitors and Lawrence High School graduates from 2000. They will represent the Douglas County Gators as part of the Oz-Some Twisters team from Kansas.
Brady was born with Rubinstein-Taybi syndrome, and Becky has an intellectual disability.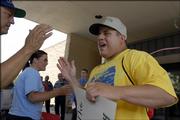 During the send-off, one person in the crowd asked Brady how he planned to finish in the national competition.
"I'm going to bring the gold. I'm going to bring gold back to Lawrence," Brady said.
His father, Gary, is softball coach at Haskell Indian Nations University. Brady can bench-press about 315 pounds, dead-lift about 475 pounds and squat around 600 pounds, his mother, Janie Tanner, said.
After Becky and Brady received baseball caps autographed by friends and family members, Becky hugged her parents, Larry and Sherrie Saathoff, and received other well wishes.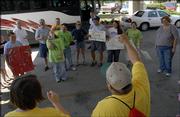 She will compete in the backstroke, freestyle and a relay swim.
"I'm not nervous at all. I'm just ready to go," Becky said during a swim session Thursday.
The games begin with opening ceremonies Sunday.
Copyright 2018 The Lawrence Journal-World. All rights reserved. This material may not be published, broadcast, rewritten or redistributed. We strive to uphold our values for every story published.