Please take no offense, Lawrence traffic lights, but you're dumb.
At least compared to your high-tech counterparts in larger cities, you're not, shall we say, the brightest bulbs in the bunch.
Those smart lights - or technically "intelligent transportation systems" - can actually sense when traffic volumes are increasing and can adjust the timing of their lights accordingly.
In Lawrence, that's not the case. Lawrence traffic lights, for example, don't have the sense to know when it is a Kansas University game day and allow traffic on major streets to have longer green lights. They also can't send a message to a city maintenance crew when they need repair.
The result, some city commissioners say, is that traffic isn't moving in Lawrence as smoothly as it could. Drivers sometimes can only go a block or two at a time before being required to stop again. Or sometimes motorists sit at a red light when there's no traffic coming.
"I would like for us to build a better traffic flow mousetrap," City Commissioner David Schauner said.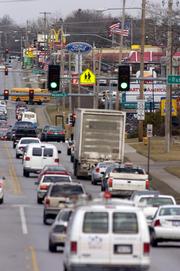 Members of the city's Public Works staff said they're also interested, as long as people realize that the new generation traffic lights may be smart but they're certainly not cheap.
Chuck Soules, director of the city's Public Works Department, said staff members several years ago researched smart lights and found that equipping a portion of a major street - like Sixth, Iowa or 23rd streets - would cost around $300,000. To do an entire stretch of road would have been closer to $1 million.
"But they do have the potential to provide better progression along our major corridors," Soules said.
Computer driven
The key to the high-tech traffic lights is that they're all linked either through fiber cables or wireless technology, said David Woosley, the city's traffic engineer. That allows the signals to "talk" to each other and share information about the volume of vehicles going through each intersection. Based on the data, the lights can automatically change their timing cycles to move traffic as efficiently as possible.
The lights also are all connected to a central computer that allows traffic engineers to monitor their performance. The system would allow traffic engineers to sit in an office and view traffic at an intersection via video cameras. The system also would send out an alert each time a bulb burns out or one of the signal's sensors malfunctions. Currently, traffic engineers must do regular field checks or rely on drivers reporting the problems.
The smart signals also could be tied into a larger system that would automatically give a green light to emergency vehicles as they approach an intersection. They also could be programmed to interact with public transit schedules, creating less red light stops for the fuel-guzzling buses.
But while Lawrence's current traffic lights aren't that smart, they aren't exactly imbeciles either. Except for the downtown signals, all of the approximately 80 signalized intersections are equipped with detection devices. Primarily, small cameras are used to count the number of vehicles that go through an intersection. That allows for the lights on the major thoroughfares to stay green unless a car is detected waiting on a side street.
The city's signals also try to take into account rush hour traffic times. But unlike the smart signals, which adjust to real-time conditions, the Lawrence system simply changes its cycle based on certain times of the day.
The city has attempted to coordinate traffic lights on several main roads, including Clinton Parkway, Iowa and Sixth streets. But Woosley said the lights each operate off their own internal clock instead of a centralized clock as is the case with smart lights.
Woosley said accuracy of the internal clocks frequently was affected by power surges or power shortages. If one clock gets out of sync, the coordination of the entire stretch of road is affected.
"There would certainly be some advantages to the newer system," Woosley said. "But it costs a lot of money to do it all."
Measuring benefits
The newer systems are starting to become more prevalent in the Kansas City metro area. The Kansas Department of Transportation and the Missouri Department of Transportation have been working together to create smart corridors on both sides of the state line.
Michael Floberg, the intelligent traffic system engineer for KDOT, said the project had had some early successes. He said along Barry Road in Kansas City, Mo., engineers estimated the smarter traffic lights had saved about 350 gallons of fuel per day by cutting the number of starts and stops that the thousands of motorists who use the road were required to make. Floberg also estimated the thousands of motorists saved a total of 330 hours of travel time each day.
That only works out to a few minutes per driver, but City Commissioner Mike Rundle said he suspected Lawrence drivers would appreciate any help they could get.
"We keep on developing in this town, but we haven't really created any new ways to facilitate cross-town traffic flow," Rundle said.
Several random drivers in Lawrence this week said the idea sounded intriguing but also costly.
"I think most streets are pretty good actually, but on the larger streets, like 23rd Street, especially 23rd Street, they could be useful," said Jeannie Houts, who lives near the busy street. "That street is just always crazy. It could use all the help it can get."
Soules said the smart signals could help improve traffic flows on 23rd Street, but said a project to eliminate a number of driveways along the road and plans to add additional turning lanes at key intersections likely would need to continue.
"These signals wouldn't be a cure-all," Soules said.
And some motorists said driving in Lawrence really wasn't that bad.
"They (traffic lights) work pretty well in the parts of town I drive in," said Jackie Dilley, who lives in western Lawrence and works at the hospital. "So I probably wouldn't want the new ones because my taxes would have to go up to pay for them."
But Rundle said residents should try to keep the costs in perspective. He said if the devices kept good roads functioning well for a longer period of time, the signals eventually would pay for themselves.
"I can tell you that they would be less expensive than widening Sixth Street or 23rd Street to six lanes to move all the traffic," Rundle said.
City staff members said they would continue to pursue grants through the state to pay for a pilot project, but also would bring a plan forward this summer for commissioners to consider during budget discussions.
Copyright 2018 The Lawrence Journal-World. All rights reserved. This material may not be published, broadcast, rewritten or redistributed. We strive to uphold our values for every story published.