"Go out and tell our story to your daughters and your sons. Make them hear you. Make them hear you."
- from the musical "Ragtime"
History is written, they say, by the men and women who were there.
But for those groups often ignored by the canon of history, the memories of people and places are passed from generation to generation another way: through the spoken stories of their lives.
"If you don't get the people's experience, all you get is a version," Reta Cosby said. "What's missing is the African-American history."
Cosby and her group have spent the last four years collecting the spoken histories of Lawrence and Douglas County's black community, documenting a span of time stretching from John Brown and Quantrill's raid to the smoldering rubble of the Kansas Union in 1970.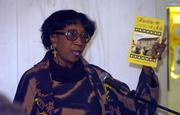 History has documented the events that shaped lives in the area's black community from Civil War to civil rights, but Cosby said that black voices often were missing from what others had documented.
Now the project, called the Lawrence-Douglas County African-American Families Oral History Project, has embarked on capturing those stories. So far, the group has interviewed more than 20 residents, collecting stories of both the oppression of pre-civil rights Kansas and the hope found in the churches and homes in Lawrence's black community.
The project was funded by a grant from the Kansas Humanities Council, and Cosby said it was intended to complement the work of Freedom's Frontier and other historical groups.
The group had an oral history workshop Saturday in the basement of St. Luke AME Church, 900 N.Y., where those involved in the field reached out to community members, urging them to get involved in the spoken history of their communities.
Sherrie Tucker, an associate professor of American studies at Kansas University, has assisted the project since its inception in 2002.
An oral historian who has worked with the likes of the Smithsonian Institution, Tucker gave the crowd tips on the patient art of listening and understanding others' stories.
"We want to get interviewers trained within the community," she said.
Geneva Price, a longtime oral historian, joined Tucker in offering advice on how to collect people's stories.
Interviews at Spencer Museum
Taped interviews with older members of Lawrence's black community, captured for the Lawrence-Douglas County African-American Families Oral History Project, are housed in the Spencer Research Library at KU.
It starts with listening, she said. If an interviewer doesn't listen, the trust won't be there - and without trust, stories don't blossom.
But when they do, she said, they open up whole worlds of information, not just about individual lives, but about the people and places that surrounded them.
Dorthy Pennington, an associate professor of African-American studies at KU, echoed Price's words. She became involved in oral history after documenting Lawrence's black churches.
"Some churches had no written histories. None," Pennington said. "It became sort of a personal passion of mine."
To help further Pennington's research, the group also began collecting the oral histories of older members of St. Luke.
The task is daunting, group organizer Cosby said. Those who know the history, both in the church and in Lawrence as a whole, are passing away or moving out of the city faster than she can interview them.
The project has accomplished a lot so far, she said, but she can feel the unspoken voices of history quickly slipping away.
"Now," she said, "we've got to work really fast."
Copyright 2018 The Lawrence Journal-World. All rights reserved. This material may not be published, broadcast, rewritten or redistributed. We strive to uphold our values for every story published.