More than the points, the Free State High girls basketball team missed their point guard Saturday.
When Lauren Kimball, the team's primary ballhandler, was forced to the bench because of her fourth foul in the third quarter, Free State was left vulnerable to pressure defense.
Junction City made sure to take full advantage. Utilizing a full-court press, the Blue Jays reeled off 11 unanswered points to take control in a 48-42 victory in the Firebird Winter Classic championship game.
"It was really hard to get the ball up because the people that were trapping were pretty tall," Free State junior Jenna Brantley said. "With our other guards out that could handle the ball, it was pretty hard to get around their defense."
Junction City's defense forced six turnovers in the quarter, turning a 10-point deficit into a 32-27 lead entering into the final eight minutes.
"We had some kids playing some unusual positions against the press," Free State coach Bryan Duncan said. "The truth is, we don't get pressed very often because we handle the press very well. We kind of had a double-edged sword there."
Photo Gallery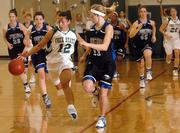 Free State vs. Junction City 01-28-06
The Firebirds rallied late, with a Kimball layin and free throw cutting the deficit to 42-38 with 31 seconds remaining.
But the Junction City pair of Dani and Alex Hoover kept Free State at arm's length, combining to make their final eight free throws.
"You have to give (Junction City) a lot of credit," Duncan said. "They played a tremendous half."
The Firebirds took an early lead, slowing down the fast-paced Blue Jays' offense in the first 16 minutes.
With the help of seven second-quarter points from Brantley, Free State took a 20-13 lead into halftime after allowing just one field goal and four points in the eight-minute stretch.
"Our defense was the main focus of winning this tournament," Brantley said, "but obviously, that stopped working in the second half."
Brantley led all scorers with 18 points, while Kimball added 12. Both players - along with teammate Banaka Okwuone - were named to the 12-person all-tournament team.
Junction City's Alex Hoover earned the event's Most Valuable Player honor.
The meeting was the third between the two schools this season, even though they do not play in the same league.
Free State won the first matchup in December to take the Bonner Springs Metro Prep Classic championship, but Junction City came back to win the next two games on consecutive Saturdays.
Lawrence girls 54, Olathe North 35
In the seventh-place game, LHS wasted no time taking control, forcing nine first-quarter turnovers in the 19-point victory.
"We knew they were pressurable," LHS coach Kristin Mallory said, "and we wanted to do that right away."
The Lions' full-court press not only led to easy buckets but also to a 25-point outburst in the first eight minutes.
Senior Sarah Johnson contributed a double-double with 11 points and 10 rebounds. Danielle Bird added 12 points.
The Lions forced 24 turnovers in all, finishing the weekend with a 1-2 record in the tournament.
"This is better than 0-3 for sure," Johnson said. "This is going to be the start of a new winning streak for us."
Copyright 2018 The Lawrence Journal-World. All rights reserved. This material may not be published, broadcast, rewritten or redistributed. We strive to uphold our values for every story published.