Julie participated in Lawrence Memorial Hospital's writing workshop, "Your Life is Your Life: Writing for Hope and Healing." "I was the Edgar Allan Poe of the group," Julie says, laughing.
To My Body
You are a warrior
A pink ribbon pinned on your chest is your medal of honor, your purple heart
You are a warrior
Photo Gallery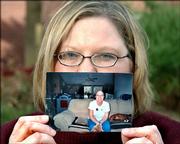 Life anew at thirty-six
Your battle scars reflect a newfound wisdom about life and death
You are a warrior
You know the true meaning of courage
Myself ...
I am generally polite but I don't have to be
It's OK to be angry - was never said to me
Cancer stopped by to say - You're living your life the wrong kind of way
So I met myself and got mad
I never realized the blessings I had
I want to tell you how beautiful you are :
When you are completely exposed
Robbed of all things feminine
No hair
No breasts
No reproductive organs
Beauty is then allowed to take on its true form :
Strength
Forgiveness
Guts
Determination
Grief
I see you out there - outside of my window
I know it's cold and windy and raining - and you'd like to come inside
We have so much to discuss
But you frighten me.
I've seen others let you in for afternoon tea and you never leave.
You have the ability to outgrow your hostess by feasting upon her pain.
I Am Never Alone
I am never alone
You heard the words - "you have cancer"
before I did
I am never alone
You were afraid before I was
I am never alone
You cried rivers before I did
I am never alone
You once had poison running through your veins
I am never alone
You were bald once too
I am never alone
You've had the same surgeries
I am never alone
You've tried to soothe your burning flesh
I am never alone
You were beautiful, loving, gracious,
living survivors before I was.
Copyright 2018 The Lawrence Journal-World. All rights reserved. This material may not be published, broadcast, rewritten or redistributed. We strive to uphold our values for every story published.