A $35,000 grant to the East Heights Early Childhood Family Center from the Ethel and Raymond Rice Foundation will buy the prekindergarten program some more time.
It will allow business to continue as usual for now at the Lawrence school district's preschool program, which operates almost exclusively on private donations, said principal Cris Anderson.
Anderson said 160 children attended programs at East Heights, 1430 Haskell Ave.
The center has six full-day programs for students, most of whom would be considered at-risk.
"It puts them on the same playing field as some of their peers," Anderson said.
The Rice Foundation has donated about $329,000 since the East Heights readiness program began 10 years ago. The funding for the program is administered through the Lawrence Schools Foundation.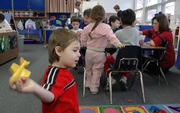 About 40 percent of the schools foundation's budget pays for the East Heights program.
The schools foundation is a charitable organization, and its mission is to enrich education in the school district.
"Right now, we're actually providing that education," said Susan Esau, executive director of the schools foundation, about the readiness program. "It wouldn't exist if it weren't for private contributions."
The schools foundation also is preparing to raise $150,000 this year to keep East Heights in operation, Esau said.
Esau and Anderson said they were both grateful for another Rice Foundation grant.
It will be used to pay teachers' salaries, Esau said. Six teachers are on staff with the all-day program, Anderson said.
Of the 107 students who used the center's prekindergarten program last year, only 19 need extra support now for reading or math, Anderson said.
"Our local data is right in line with all national data that says a quality preschool program benefits young children," Anderson said.
The main all-day preschool program at the school includes language and literacy activities.
The program also stresses development of social skills in large and smaller group settings to help prepare students for elementary school, Anderson said.
"We get to keep our program as it is," Anderson said. "Without the donation, we probably would not be able to do that."
Copyright 2018 The Lawrence Journal-World. All rights reserved. This material may not be published, broadcast, rewritten or redistributed. We strive to uphold our values for every story published.