A strong defensive showing by the Free State High girls basketball team led to a last-second, 45-44 victory Friday over Kansas City Sumner Academy in a thrilling semifinal game at the Firebird Winter Classic.
"That was a fun game," said Free State coach Bryan Duncan following the game, in which his team held Sumner to four points in the final quarter. "That's what playing in the semifinals should be all about."
An errant pass by a Sumner player - off a rebound of Free State's Kelsey Harrison's missed free throw on the front end of a 1-and-1 - found its way into the hands of the Firebirds' Jenna Brantley, who put in the winning shot with 10 seconds remaining.
"Actually, I don't know why I shot it, but I kind of thought it was at the buzzer - thought it was a buzzer shot," said Brantley, who had a team-high 17 points. "I heard someone say, 'Shoot it,' and then I heard someone say, 'Don't shoot,' so I got a little confused, and it was lucky because I was really off balance."
After going down by 10 in the third quarter, Duncan turned to his seniors to mount a comeback.
Photo Gallery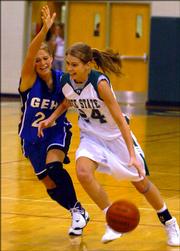 Firebird Winter Classic
"We put our three seniors on the floor together - Tricia (Dunham), Sarah (Heider) and Banaka (Okwuone) - and said 'This is your opportunity to come out and get us back in, as seniors you should take that leadership role and get us back in the game,'" Duncan said. "Our three seniors actually won that game for us tonight, with their five-minute run in the third quarter."
The win makes the Firebirds a perfect 5-0 in tournament games this season. They will look to make it six in the championship game today at 2 p.m. against Junction City.
Free State lost to the Blue Jays, 58-46, at home Jan. 22, but on Dec. 14, in the championship game of the Bonner Springs Tournament, defeated Junction City, 45-37.
"We're going to win it, I know that," Brantley said. "We beat them once in a championship game ... and we're going to go in and play really hard and win it again."
Topeka Seaman 51, Lawrence High 46
In a David-vs.-Goliath game, the smaller Lions struggled in the consolation bracket of the Firebird Winter Classic.
"It was a roller-coaster ride," said LHS coach Kristin Mallory, whose team was up by 11 points early.
The Vikings had three girls standing as tall, or taller, as the Lions' tallest player at 5-foot-11 - including 6-5 junior Breanna Lewis.
"Size-wise, we were digging ourselves out of a hole the whole night," Mallory said. "I thought we did a pretty good job on the boards, considering how tall they were. ... Offensively, we're not big, so when you're driving into a 6-5 girl, it's tough."
The Lions' Drew Huff tried to equalize the height disadvantage down low by hitting three three-pointers en route to finishing with 13-points, which was tied with teammate Danielle Bird.
"We need to make sure that we move and get open for other people to pass to and have more confidence in our shots," Huff said.
Mallory said she was impressed with a better defensive showing by her team, which was led by Sydney Wilson, who had game-highs with 10 rebounds and seven steals.
"We weren't shooting our greatest, but we knew if we kept our defense up we could hang around," Wilson said. "But this was a really physical game. I don't think we came out prepared for this physical of a game so it kind of hurt us in the very end."
LHS will take on Olathe North today at 11 a.m. in the seventh-place game.
Free State 45, Sumner Academy 44
Free State 11 9 13 12 - 45
Sumner 9 12 19 4 - 44
Free State - Jenna Brantley 7 1-1 17, Banaka Okwuone 2 3-4 7, Kelsey Harrison 2 2-3 6, Lauren Kimball 1 2-4 4, Jessica Scott 1 2-2 4, Allie Hock 1 0-0 3, Sarah Heider 1 0-0 2, Tricia Dunham 1 0-0 2, Sarah Craft 0 0-0 0, Hannah Windholz 0 0-0 0. Totals 16 10-14 45. Three-pointers Brantley 2, Hock. Turnovers 19. Total fouls 7. Fouled out none.
Sumner - Marisah Henderson 7 3-4 19, Shannon White 4 1-4 9, Monique Johnson 3 0-0 6, Mikey Mozingo 2 0-0 4, Janae Garcia 1 0-0 2, Brittany Thomas 1 0-0 2, Rocki Mitchell 1 0-0 2, Kristain Dodds 0 0-0 0, Michelay Green 0 0-0 0. Totals 19 4-8 44. Three-pointers Henderson 2. Turnovers 11. Total fouls 13. Fouled out White.
Seaman 51, Lawrence 46
Seaman 9 19 9 14 - 51
Lawrence 16 7 3 20 - 46
Seaman - Raychel Boling 7 8-8 23, Aubree Gustin 3 1-2 8, Casey Hughes 2 1-2 6, Breanna Lewis 3 0-0 6, Kristen Betts 1 2-11 4, Emily Gatewood 1 0-0 2, Shannel Millard 0 2-4 2, Shelbie Lutz 0 0-0 0. Totals 17 12-33 51. Three-pointers Boling, Hughes, Gustin. Turnovers 18. Total fouls 13. Fouled out none.
Lawrence - Drew Huff 4 2-5 13, Danielle Bird 6 0-0 13, Sydnei Tolefree 3 1-2 7, Lindsey Lawrence 3 0-0 6, Sydney Wilson 1 2-2 4, Katelyn Hobbs 1 1-2 3, Sarah Johnson 0 0-0 0. Totals 18 6-11 46. Three-pointers Huff 3, Bird. Turnovers 8. Total fouls 20. Fouled out none.
Copyright 2018 The Lawrence Journal-World. All rights reserved. This material may not be published, broadcast, rewritten or redistributed. We strive to uphold our values for every story published.