Done with his postgame interview, Free State High girls basketball coach Bryan Duncan turned to junior Jenna Brantley and offered his two cents on her pending moment in the spotlight.
"Make sure you talk about your defense," Duncan said.
Just another step to make sure the message sinks in.
Coming off a double-digit loss to Junction City, Duncan decided improvements had to be made when the Firebirds didn't have the ball. That meant more than a few grumpy moments at practice this week.
It also meant immediate dividends, as Free State harassed Gardner-Edgerton from the opening tip to earn a 47-39 victory Thursday in the opening round of the Firebird Winter Classic.
"You can ask the girls - we did a few drills that weren't real fun for them," Duncan said. "We take a lot of pride in our defense."
It showed against the Trailblazers (6-5), who turned the ball over 15 times while struggling to crack Free State's constant backcourt pressure. They likewise had problems putting the ball in the bucket when they did reach the front court, shooting just 37 percent (15-of-41).
Photo Gallery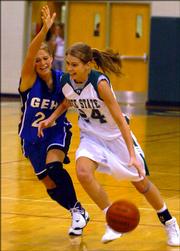 Firebird Winter Classic
The Firebirds (6-5) didn't light the world on fire once they got their hands on the ball, connecting on just two more shots in the same number of attempts. The lone exception was Brantley - also the one player urged to work on offense this week.
Following Wednesday's practice, Duncan kept the lanky 5-foot-11 guard late, ordering her to knock down 20 three-pointers before she could join her teammates at a team dinner.
Brantley connected on consecutive first-quarter threes that staked Free State to an early lead, then mixed in an assortment of mid-range jumpers and drives to the hoop and finished with a game-high 19 points.
"Early on, I was ready to shoot a lot of threes because I was hitting them in warmups," Brantley said. "After I made a few, they started guarding me a little closer, and I was able to get around them with the dribble."
And about Duncan's pre-interview suggestion?
"We beat them on the defensive end. That's how we won the game tonight," Brantley said.
Next up for FSHS is a 5:30 p.m. semifinal tonight against Kansas City Sumner, which handily defeated Olathe North, 76-27, in another opening-round game.
"They're a very athletic team that can get up and down the floor, and they have a lot of size," Duncan said. "In a semifinal game, you should expect to have to beat a good team to advance."
Junction City 63, Lawrence High 45
Down just a bucket at the half in a low-scoring affair, the Lions allowed the fifth-ranked Blue Jays to score 37 points after the break.
"They were getting easy look after easy look after easy look on back screens, and we just didn't make the adjustments," LHS coach Kristin Mallory said. "They're a good team, and they played well. But our defense was poor enough that we made them look good, too."
Alex Hoover led Junction City (9-3) with a game-high 16 points.
Danielle Bird scored 12 for the Lions (5-6), who drop into the consolation bracket where they will face Topeka Seaman at 7 tonight.
"Now you see what you've got," Mallory said. "Do you get in there playing hard the next round and play for fifth? Or do you not care?
"To me a win's a win - play for two on the back side."
Copyright 2018 The Lawrence Journal-World. All rights reserved. This material may not be published, broadcast, rewritten or redistributed. We strive to uphold our values for every story published.