When more than 400 fourth-graders cram into the bathroom and erupt in a chorus of "Happy Birthday to Kansas," Susan Krumm knows she's getting through.
Krumm, an agent for K-State Research and Extension in Douglas County, spent Thursday playing the Food Wizard for the annual Slice of Agriculture program at the Douglas County 4-H Fairgrounds.
Her lesson for the students: If you had five germs on your hands when you walked into the fairgrounds building, you'd have 1,280 by the time you left two hours later.
That's why she showed them all how to wash their hands - with soap, warm water and a clean, dry paper towel - for 20 seconds, or long enough for the kids to sing "Happy Birthday" to their state twice.
The students did just that before hunkering down for a lunch of pizza, carrots, milk and ice cream - the nutritional harvest of their educational day.
"You can't see, smell or taste germs," said Krumm, who was stationed at the House of Germs. "They're all around us, but we don't know that they are. And even though we don't see them on our hands, we know that they are there - and we have to wash."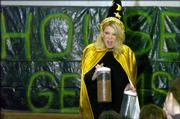 Slice of Agriculture, now in its sixth year, exposes students to the world of farm products and services - and the germs they should avoid - that permeate their lives. By the time the event ends today, more than 800 fourth-graders from Lawrence, Baldwin and other area communities will have been given the chance to pet a real dairy cow, sit on an actual farm tractor and even play Soil Conservation Jeopardy.
"Our goal is to have these youths understand where their food comes from," said Bill Wood, ag extension agent and an event organizer. "It's not just, 'Pick it up in the grocery store.' There are people out there, farmers in our county, growing corn, soybeans, beef, pork, dairy : and it eventually ends up on our dinner table so we can enjoy a good meal."
The farm industry also generates average annual sales of about $30 million in the county, Wood said.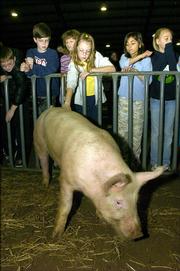 The event is organized and sponsored by Douglas County 4-H, FFA chapters at Lawrence and Free State high schools, Deems Farm Equipment, Douglas County Conservation District, Douglas County Farm Bureau, Douglas County Extension and the Lawrence Chamber of Commerce.
Copyright 2018 The Lawrence Journal-World. All rights reserved. This material may not be published, broadcast, rewritten or redistributed. We strive to uphold our values for every story published.