Their teammates were finished. Half already had their bowling shoes off when Tyler Bradshaw and Brent Ott made the two biggest shots of the day for Free State High in its three-team bowling meet Tuesday at Royal Crest Lanes.
Though the two nearly were alone on their lane, the teammates remained focused to both pick up spares in the last frame of Game Three to add an extra 20 pins.
Turns out the Firebirds would need every last one of them.
With the late contributions from Bradshaw and Ott, Free State surged ahead of Olathe North for the boys' title, winning the event by 10 pins with a 2,479.
"Both those boys - their mental game is really strong when it comes down to the very end," Free State coach Anita Carlson said. "They support each other really well that way."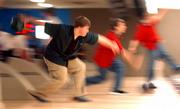 While the two had the final marks, Kenny Altman kept the Firebirds in the race with a strong early performance, contributing consistent games of 214, 232 and 225 for a 671 series and Free State's best score.
The junior also received help from the hometown lanes in the first two frames. On his first strike, Altman hit the left side of the head pin instead of the right.
He also missed his mark on ball two but was left shaking his head when a wandering pin slid across the lane and knocked three others down for a second straight strike.
"I wouldn't say I knew it was my day, but I knew I was having some luck - dumb luck, pretty much," Altman said. "I did that a lot the first game, then the second and third games I started to find my lines. I wasn't carrying the luck over. I had to actually shoot well."
Bradshaw's 606, Ott's 602, and Mike Herschell's 599 combined for the winning score.
Free State's girls finished third but still improved its team score from last week. The Firebirds combined for a 1,761, led by Melissa Burnside.
The junior saved her best for last, making the proper adjustments to roll a 218 in Game Three and complete a 517 series.
"I couldn't figure out what I was doing wrong during the first two games, and I figured out I was holding the ball too tight," Burnside said. "I just had to relax and let it go and let it do its own thing. I started hitting my marks more, and it was working out."
Free State will participate in its second home meet Thursday, playing host to Oskaloosa and Olathe Northwest at Royal Crest Lanes.
Copyright 2018 The Lawrence Journal-World. All rights reserved. This material may not be published, broadcast, rewritten or redistributed. We strive to uphold our values for every story published.