The Lawrence High wrestling squad did its best impression Tuesday night of a hot, gooey donut fresh from the deep fryer.
Forget the big hole in the middle. What surrounds it is so good it doesn't matter.
The Lions' dominant lightweights and big boys on the back end offset a poor showing between the two, keying a 45-27 home victory in their annual grudge match with Free State.
LHS rode a forfeit, two pins and a decision to a quick 21-0 lead, yet fared so poorly in the next five matches that it needed a pin parade late to put away the pesky Firebirds.
"We lost a couple of matches in the middle I didn't really plan on losing," LHS coach Mark Dulgarian said.
"I was counting on 24 points in four out of the last five matches, (and) winning the first several matches, getting up 21 before they scored, made quite a difference in that situation because we weathered the storm."
Photo Gallery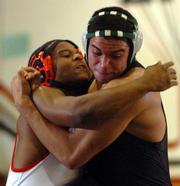 Lawrence High vs. Free State High wrestling
Free State started raining on the Lions' hopes at 130 pounds when junior Marc Somers needed just 20 seconds to put Chris Ermey on his back and earn the Firebirds' first points.
At 152, K.J. Siebert's decision over Cody Weber capped a run of five straight Free State wins and knotted the score at 21.
"They're pretty consistent point scorers for us, and they did their job," Firebirds coach Darrell Andrew said.
However, they received little help. After back-to-back pins by the Lions' Cameron Reschke (160) and Nolan Kellerman (171), a quick fall by Jesse Hardy at 189 kept the Firebirds' mathematically alive with two matches remaining.
Less than two minutes later, LHS senior C.J. Williams crunched those numbers. Down 2-1 in the first period, the Lions' 215-pounder caught Andy Neighbors in a headlock, took him to the floor and stuck the pin at 1:58 to seal the team triumph.
It was fitting redemption for Williams, who blew out his knee in his first varsity match as a sophomore only to rebound and close the door on the final home match of his career.
"Coach told me to live off the crowd when I got out there, to live off the energy," Williams said. "The crowd pumped me up, and it all paid off.
"To go against a kid in the same town as you, in front of all the kids in school ... it doesn't get any better than that."
With the victory, the Lions closed out the dual-meet portion of their schedule with a 14-2 record - the best in school history.
"I have no complaints about what we've done dual-meet-wise," Dulgarian said.
On the flip side, Free State dropped to just 1-2 in duals. And with a schedule heavy on two-day tournaments, Andrew doesn't want his kids to put too much stock in Tuesday's emotional head-to-head battle.
"We're not down on the kids. Things like this happen," Andrew said. "They (the Lions) were more prepared for this dual."
2005-06 Journal-World Cup
2005-06 Journal-World Cup
Standings
LHS: 10
Free State: 17
LHS varsity wins: 10
Free State varsity wins: 17
Note: The girls track and field teams recorded a tie during the Sunflower League meet.
Copyright 2018 The Lawrence Journal-World. All rights reserved. This material may not be published, broadcast, rewritten or redistributed. We strive to uphold our values for every story published.