A source close to the situation confirmed to the Lawrence Journal-World that Kansas University freshman Micah Downs will tranfer from KU.
Kansas officials released a press statement that said Downs has indeed left the team and returned to Seattle.
Downs, a 6-foot-8, 187-pound guard/forward, from Kirkland, Wash., averaged 4.3 points in 13 games for the Jayhawks.
The McDonald's All-American -- who Self said did not play in KU's blowout victory over Nebraska on Saturday because of the flu -- has not played in a game since the current semester began last week thus would be eligible to play the second semester of next season at a new school.
"It is unfortunate that Micah's tenure as a Kansas basketball player only lasted one semester," said KU coach Bill Self in an issued statement Tuesday afternoon. "Micah has decided to go home to resolve some personal issues. We wish Micah and his family the best."
Downs said he needed to address some personal issues back home.
"I apologize to my former teammates and coaches for leaving at mid-year," Downs said in the statement. "I feel I can best deal with some personal problems closer to home that have been weighing on me over the last few months. I wish KU the best the rest of the season."
Downs' father, Steve, said the reason for his son's decision to tranfer was not basketball-related.
Photo Gallery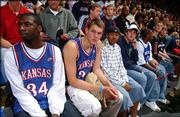 Micah Downs
Pictures from Micah Downs from before and during his season at KU.
"Our family appreciates the treatment of Micah by the Kansas coaches, players and administration," he said. "This is not a basketball issue. At this time in his life, being closer to home will hopefully enable Micah to resolve some of his issues. We thank Kansas for its support and wish them the best of luck."
Downs, who reached double figures three times this season and scored a career-best 13 points against Chaminade in the Maui Invitational, played just 18 minutes and scored only three points in four of KU's seven games since Christmas.
Downs was the sixth player to transfer from KU since Self took over three years ago. However, only two of the six (Downs and Alex Galindo) were Self's recruits.
Last season the highly-touted guard, who was the 14th-rated player in the nation according to rivals.com, who made public his thoughts about possibly leaving early for the NBA draft.
Later in the year Downs, who played at a handful of different highs schools as his family moved because of his fathers' construction jobs, had highly publicized incident after playing only 11 minutes in the McDonalds All-American Game.
"I was frustrated," said Downs at the time. "I don't know why I wasn't getting minutes. When I was out there, I was hitting threes and getting assists and stuff. I was just like, 'Why aren't I getting in there, you know? I'm just as good as anybody here.'
"It definitely soured the game for me. When I was in there, I was having fun, but this kind of ruins the whole thing."
But earlier this year at KU's Media Day, Downs said he put those incidents in the past and was focusing on his new role at KU.
"I feel comfortable shooting a deep three from NBA range," Downs said. "I think coach (Bill) Self recruited me to shoot and score. I think I'm doing a pretty good job of that."
Playing time, however, grew scarce for the sharpshooter as the season went on.
Downs played a career-high 27 minutes and scored 10 points against Western Illinois. He played double-digit minutes against Saint Joseph's and California, combining to score 16 points in the two contests and even took what would have been the game-tying three at the buzzer against St. Joe's - but Downs' trey missed.
After that three-game stint, Downs didn't see double digits again in minutes and only scored four points the rest of the way, as an apparent hand injury limited the freshman.
Copyright 2018 The Lawrence Journal-World. All rights reserved. This material may not be published, broadcast, rewritten or redistributed. We strive to uphold our values for every story published.