Faced with three major expansion proposals targeting the city's fastest growing areas, Lawrence planners are gearing up to determine the city's retail future.
A plan to add nearly 200,000 square feet of new commercial space in the northwest corner of the city, as well as a plan to add 28 acres of commercial zoning in the southeast area of the community, will be heard by Lawrence-Douglas County planning commissioners next week.
Waiting in the wings for February's planning commission meeting is a plan to add 55 acres of commercial zoning near Sixth Street and the South Lawrence Trafficway.
More retail needed?
All of it comes amid a recent retail study that suggests the city can accommodate more retail space, but also shows a higher than average retail vacancy rate in the downtown area.
The conflicting message has some city leaders urging caution.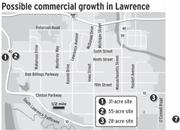 "I think some people have the attitude of if you build it they will come," City Commissioner David Schauner said. "I think we should be building retail based on what we can support today, not what we think will be here tomorrow."
But a recent study - conducted at the request of city commissioners - suggested by most measures the city's retail market has room to absorb new space. Robert Lewis, the report's author, told commissioners his study found an overall retail vacancy rate of 3.9 percent, based on an inventory he took during the summer. That's below the 6 percent to 8 percent range most communities consider to be a normal vacancy rate.
"A rate of 3.9 percent is a pretty tight number in most markets," Lewis said.
Planning commissioners will get the first crack at deciding whether the low vacancy rate means new retail projects should be approved.
Meetings this week
At their 7 p.m. meeting tonight, planning commissioners will consider a request to add 28.8 acres of commercial zoning to the southeast corner of Kansas Highway 10 and O'Connell Road in southeast Lawrence. Specific plans about how many stores or how large they would be haven't been submitted yet by the development group, which is led by Lawrence businessmen Doug Compton and Bill Newsome.
At their Wednesday meeting, planning commissioners will review a preliminary development plan for the southeast corner of Sixth Street and the South Lawrence Trafficway. That plan - submitted by a group led by Lawrence developer Brian Kubota - calls for 198,714 square feet of commercial space. It would include sites for a convenience store, a drug store, a bank, a grocery store and five other retail buildings that could be used for restaurants, specialty shops or even a hotel.
Planning commissioners have tentatively scheduled a review of the biggest of the three projects at their Feb. 15 meeting. A group led by Lawrence developer Duane Schwada is seeking to rezone 55 acres of land on the northeast corner of Sixth Street and the South Lawrence Trafficway for commercial uses. Details of the amount and size of the retail at that site haven't been submitted to planning officials yet.
Kubota said he hoped city leaders would take the approach that residents should have shopping opportunities near their homes. Both the northwest and southeast areas of the city are expected to add new residents.
"I would really like the city to get back to some more traditional planning," Kubota said. "It used to be that elementary schools would be the center of a neighborhood, then you would have housing around it, and then you would have a retail center that would be between two or three neighborhoods. As we expand in Lawrence, we have a chance to make that work again."
Copyright 2018 The Lawrence Journal-World. All rights reserved. This material may not be published, broadcast, rewritten or redistributed. We strive to uphold our values for every story published.