That giant sucking sound you hear might be all the dollars Lawrence residents are spending in Johnson County instead of at home.
A new study by St. Louis-based consulting firm Development Strategies Inc. indicates Lawrence residents may be making up to 40 percent of their total purchases outside the community.
"We've all known for a long time that we might have some leakage," City Commissioner Sue Hack said. "But I was surprised that we were that far behind."
The $20,000 study compared Lawrence's retail sales with 13 other Midwest cities - some much larger - that have universities and are considered the dominant population centers in their counties.
Lawrence ranked last - by a significant margin - in the amount of retail sales made versus the amount of sales that national averages suggest Lawrence retailers should be making.
Lawrence captured 59 percent of its expected buying income. That was well below the 130 percent seen in Columbia, Mo. Other than Lawrence, Lincoln, Neb., had the next lowest level at 80 percent.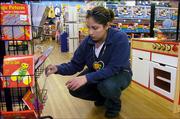 "That's concerning," Hack said.
Officials question accuracy
Not all city commissioners, though, were convinced the report was accurate.
City Commissioner Mike Rundle said he believed the report's authors may have overestimated Lawrence's buying power by overlooking that wages in the city often lag behind statewide averages.
"I wonder if we're really losing sales, or if we just don't have the buying power that we should have as a community," Rundle said.
Bob Lewis, an author of the study, said his company used an estimate from the Survey of Buying Power, which is an annual study that retailers heavily rely upon to make projections.
The new retail report could be a politically important one because proponents of new retail development in the community can point to its findings. Lewis said he thought the data showed Lawrence had room for additional retail developments.
"What the data tells me is that you haven't overbuilt retail in Lawrence," Lewis said.
Lewis said the city's overall retail vacancy rate was 3.9 percent, well below the 6 percent to 8 percent range considered normal.
Downtown vacancies
But there was one big exception. The downtown area checked in with the highest vacancy rate in the city at 10.4 percent. People wary of new retail development may grasp onto that number because a long-standing fear has been that retail development on the fringes of the community will hurt downtown.
Revenue opportunity
Retail sales from 1994 to 2004 increased on average by about 3 percent per year, rising to $1.04 billion in 2004. But consultants from Development Strategies Inc. estimated that Lawrence's economic demographics suggested that sales could be about 40 percent higher if shoppers made all their purchases at home. The report's authors said that would be unlikely, given the city's proximity to the Kansas City area. But if sales were increased by 40 percent, that would equate to approximately $8.5 million in additional sales tax revenue each year that would be split between the city and county governments.
"That number has given me reason to be more cautious," Rundle said.
Lewis agreed downtown's vacancy rate was worth keeping an eye on.
"The downtown number is a bit higher than you would like to have it," Lewis said. "It is a little on the weak side."
But it may not be because of new retail developments in other parts of town. Lewis said it might be because new housing developments were becoming increasingly distant from downtown.
"Fewer and fewer new residents may think of downtown as a place to go," Lewis said.
Several shoppers and merchants in Lawrence said the study was easily believable.
"I know there are a lot of people who want to just go spend the day at the Oak Park Mall," said Mollie Qualseth, who said she made a point to shop in Lawrence. "I worry about mom-and-pop businesses."
Caroline Legler, a Lawrence resident and Kansas University student, said she could understand why many residents shopped out of town. She said she would like to have more developments like those along South Iowa Street that feature large national retailers.
But some downtown merchants said city commissioners needed to be careful opening up large new areas for retail development that would compete with downtown.
"We need to heighten people's awareness that if they don't support the shopping areas that we have, they will go away, downtown included," said Geri Riekhof, owner of The Bay Leaf in downtown.
Other shoppers, though, said the issue went well beyond people's shopping habits or preferences. Lawrence resident Neva Smiley said city commissioners should take a broad look at the city's economy.
"I would say if people are doing that much shopping out of town, it is because they are working out of town," Smiley said. "If I worked out of town, I might shop out of town, too."
Copyright 2018 The Lawrence Journal-World. All rights reserved. This material may not be published, broadcast, rewritten or redistributed. We strive to uphold our values for every story published.