When a Lawrence public school student is suicidal, depressed because parents are fighting, or burdened with other weighty problems, a counselor is on hand to help.
"Lawrence isn't Lake Wobegon," said Charlie Kuszmaul, a program coordinator for Bert Nash Community Mental Health Center, referring to the fictional locale where all children are above average. "We like to think it is, but it isn't."
But the money that funded the counseling program, which many consider essential to Lawrence schools, is drying up.
"We need to come up with an alternate source of funding. If we don't, the program will end or be reduced to a fraction of what it is now," Kuszmaul said.
The program's federal grant ends at the close of the school year. Kuszmaul is program coordinator for Bert Nash's WRAP program. WRAP is the acronym for Working to Recognize Alternative Possibilities. Thanks to the program, every student in a Lawrence public school has ready access to a full- or part-time mental health counselor.
In Kansas, no other school district offers as much access to as many counselors.
"I don't know what we'd do without WRAP," said Carol Souders, a seventh-grade English teacher at Central Junior High.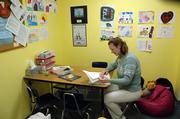 "I send kids to our WRAP worker all the time because they have issues I can't handle," she said. "I have my hands full being a teacher. I'm not a social worker."
Routinely, the counselors help students cope with depression, eating disorders, substance abuse, death, divorce, domestic violence and thoughts of suicide.
Request for funding
On Monday, Kuszmaul and his boss, Bert Nash CEO Dave Johnson, plan to ask the Lawrence school board to set aside $350,000 for WRAP.
"It's a critical step for us," Johnson said. "I don't think we'd get very far with the rest of the community if the school district wasn't on board."
To continue, WRAP needs about $800,000 annually.
Johnson said he hoped to also approach the city, county and private sector for funding.
Carving $350,000 out of the school district's budget won't be easy.
"It'll go up on the big board with a lot of other things," said Lawrence public schools Supt. Randy Weseman. "It'll all come down to setting priorities."
Already, school officials are under intense pressure to raise teacher salaries. And last week, several parents urged the board to get behind a sports complex that's expected to cost millions of dollars.
"WRAP is a great program," Weseman said. "But we have a lot a great programs that are grant-funded and, sooner or later, they're all going to want to be picked up.
"The question becomes: What do you do when your wants are unlimited and your resources are limited?"
Tapping the city and county coffers won't be any easier.
"It will be very difficult for WRAP or anybody else to get the county commission to replace grant money - that's my opinion," said Douglas County Commissioner Bob Johnson.
"And it has nothing to do with whether it's a worthwhile program; it's simply due to our not having the funds," he said. "If we had the funds, I'd do it with the stroke of a pen - I'm a huge fan of Bert Nash. But that's not the world we live in."
Kuszmaul said WRAP's services, by keeping young people out of trouble, save both the city and county hundreds of thousands of dollars each year.
"It's like replacing your leaky roof," he said. "You don't have to, but if you don't, you'll just end up spending a lot more down the road."
Looking at options
School board member Sue Morgan said before the board acted on WRAP, it was likely to review the roles of guidance counselors, prevention specialists and nurses employed by the district.
"Right now, a lot of things are sort of pieced together because of the way the grant was structured," Morgan said. "But now that the grant is going away, there may be some things we can do to be more efficient. We'll need to review our options."
For the past four years, WRAP has received most of its funding through a Safe Schools/Healthy Students grant, a blend of federal aid from the departments of education, justice, and health and human services.
Administered by the school district, the $9 million grant also has funded:
¢ In-school prevention programs aimed at curbing drug, alcohol and tobacco use.
¢ Success By Six.
¢ Bigs in Schools, a project of Big Brothers and Big Sisters of Douglas County.
"We have several grants that expire this year - not just the Safe Schools/Healthy Students grant," said Becki Carl Stutz, affiliate director for Big Brothers and Big Sisters.
To offset the loss, she said, the program needs to raise an additional $180,000.
"We're looking at other fund-raising opportunities," Carl Stutz said.
The loss's effect on Success By Six and the district's prevention programs is not yet known.
Copyright 2018 The Lawrence Journal-World. All rights reserved. This material may not be published, broadcast, rewritten or redistributed. We strive to uphold our values for every story published.