Amber Gilliam will soon finish a race few, including herself, thought she could even run.
"She's sort of like the athlete who loses a leg and then comes back to run in a marathon," said Charlie Kuszmaul, director of Bert Nash Community Mental Health Center's in-school Working to Recognize Alternative Possibilities counseling program, also known as WRAP.
"She's overcome a lot," he said.
On Sunday, Gilliam, 18, will join hundreds of her Lawrence High School classmates and get her diploma in a ceremony at Memorial Stadium.
It's not been easy. When she was 2 years old, her father died in a car accident. "He was drunk," she said.
Gilliam and her mother have been at each other's throats for as long she can remember.
"She's what we call 'parenticized,' which means that at a very early age she was given a lot of responsibility," said Tami Radohl, Gilliam's WRAP counselor at Southwest Junior High School. "She looked out for her younger sister, she worried about money and about where the next meal was coming from. She was both a child and a parent."
But Gilliam stuck with school.
"If it hadn't been for WRAP, I probably would have dropped out my junior year," she said.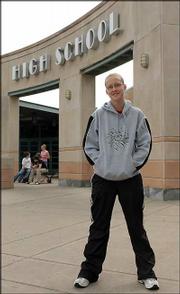 Rocky life
Since she was 16, Gilliam has held several jobs, eagerly awaiting the day when she could live away from her mother and stepfather.
"My home life has always been rocky," she said. "Lots of issues there. Not much communication."
At first, attending school in Lawrence wasn't much improvement over home.
"Eighth grade was hell for me," Gilliam said recently.
"Where I was from -- we moved here from Oklahoma -- all the kids dressed baggy," she said. "Baggy pants. Baggy shirts. Bandannas. Chains -- lots of chains.
"I get here and all the kids are wearing brand-name clothes," she said. "I didn't have anything with a brand name on it, so, needless to say, I didn't fit in.
"I got in a lot of fights; that was my way of communicating my anger," Gilliam said. "I talked back to my teachers. I didn't do my homework. I slept in class. I made it so nobody messed with me."
Gilliam, who's 5-foot-7 and weighs 105 pounds, turned 18 in September.
"On my 18th birthday, there was a friend of mine's pickup truck in our driveway," she said. "I moved into an apartment with a lady I knew at work."
If she had dropped out of school, it's possible no one would have cared.
Lots of kids give up. Get jobs. Disappear.
Gilliam is different.
"All of us admire that athlete who overcame the loss of a leg to run in the marathon because we recognize the barriers. We can see them," Kuszmaul said. "Amber has overcome barriers, too. It's just that they're not as obvious. Rather than being physical, they're social, psychological or emotional."
Gilliam said she first realized she could make something of herself as a freshman, while taking part in a youth program run by Mustard Seed Christian Fellowship, 700 Wakarusa Drive.
"I don't know," she said. "Something just snapped inside me that made me realize I had better things to do than beat people up."
Missed out on childhood
She quit fighting and started talking with Radohl.
"She kept after me," Gilliam said. "We talked a lot."
Gilliam proved to be a handful, Radohl said.
"Because of what she's been through, she's very mature for her age. That's the positive; she's been making decisions since she was 6 or 7 years old," Radohl said. "But the negative is that she missed out on having a normal childhood, and instead of enjoying that childhood she took on a lot of extra anxiety, making sure everybody's needs got met."
At LHS, Gilliam said she did well her sophomore year thanks in large part to Kuszmaul, then the WRAP worker at the high school.
But in her junior year, she fell into a funk. "I don't know why," she said. "I just started not to care again."
It didn't help that Kuszmaul had taken a front-office job at Bert Nash, and Gilliam was slow to trust his replacement, Elizabeth Day.
"I came around eventually," Gilliam said. "My senior year, I went around and apologized to all my teachers for my junior year."
In March, Gilliam moved in with a boyfriend who is considerably older.
"It's a good relationship," she said. "I'm committed to it and so is he."
Since November 2003, she has held a part-time waitressing job -- "Sometimes I work 15 hours a week, sometimes its 35 hours a week," she said -- while going to school. Her senior year, she made B's and C's.
In the fall, she plans to take nursing classes through a Neosho County Community College program in Ottawa.
"I think I'm getting a scholarship," she said. "If I don't, I'll pay for it myself."
Her mind is made up.
"That's one of things I most admire about Amber: her ability to remain optimistic enough to look into the future and see the possibilities for change and improvement," Kuszmaul said. "So many kids get stuck in the here and now."
Copyright 2018 The Lawrence Journal-World. All rights reserved. This material may not be published, broadcast, rewritten or redistributed. We strive to uphold our values for every story published.