Topeka — To Kansas winemakers, the future of their fledgling industry at times may seem as clear as champagne or as cloudy as some basement homebrew.
Over the past three years, the number of wineries has increased from seven to 16, and the amount of grape acreage is expected to double in the next five years, according to Norman Jennings, a vineyard owner and legislative chairman of the Kansas Grape Growers and Winemakers Assn.
"The grape and wine industry in Kansas is one that has the potential to be a major contributor to the state agritourism and value-added agricultural industries," Jennings said.
In addition, a recent U.S. Supreme Court decision on shipping wine was seen by many wineries as the opening to deliver wine from the vineyard to a customer's door, or at least to the retailer down the street where the customer could pick up an order.
But a bill to ostensibly open up wine shipments in reaction to the court ruling has uncorked a bitter fight in the Legislature.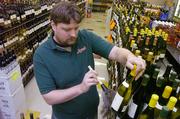 Senate Bill 370 before the Senate Federal and State Affairs Committee would allow customers to purchase wine over the Internet or on the telephone.
But the bill would require that the wine be shipped from the producer to a licensed wholesaler, who would then take the product to a retail liquor store where it would be picked up by the customer who ordered it.
Greg Shipe, owner of Davenport Vineyard and Winery east of Lawrence, said the legislation was no good.
"The current bill would make it so cumbersome, unwieldy and expensive for an individual consumer to ship wine into the state that we would be surprised if a single transaction took place," Shipe said.
But Tuck Duncan, lobbyist for the Kansas Wine and Spirits Wholesalers Assn., said the producer to distributor to retailer transaction was the best way to go.
"This system makes it absolutely as simple as possible," Duncan said.
It ensures the collection of gallonage taxes at the distributor level and makes sure that underage people are not purchasing the wine, he said.
Shipe said he believed safeguards could be put in place, as they have in other states, to allow direct shipment of wine to consumers.
"Our Kansas wineries get literally thousands of requests yearly to ship our wines all over the state and the country," he said. "The current bill makes absolutely no provision to help Kansas wineries by allowing direct shipping."
Copyright 2018 The Lawrence Journal-World. All rights reserved. This material may not be published, broadcast, rewritten or redistributed. We strive to uphold our values for every story published.