Participating in wine socials and museum tours can be a way to get ahead in business.
The Young Professionals Network, a burgeoning group of under-40-somethings, are discovering that a bit of socializing can go a long way.
"There are so many talented and unbelievably amazing people in the 40s-and-under group," said Jim Moore, account executive with Charlton Manley Insurance and former chairman of the network.
The network began in August 2004 with a kickoff night of tailgating and baseball with the Kansas City Royals.
Today it has more than 200 members from a variety of area businesses
"The more people you can bounce ideas off of and bounce experiences off of, the better-equipped you're going to be as you meet a challenge going forward," said Ryan Wedel of Central National Bank in Lawrence, a network member.
Membership is free. The only costs are those related to the events, and the network often receives group discount rates, Moore said.
The venues range from local pubs to the Dole Institute of Politics.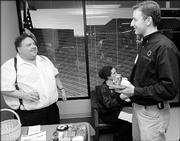 Getting established in business can take time, Moore said, but the network allows young people to meet and develop contacts at other businesses.
Jandi Smith, a business services account manager for the World Company and current chairwoman of the network, said she was attracted to the energy of the group.
"It's never quiet," Smith said. "I've met somebody new every time. There's constant networking."
But it's not only about socializing.
Jill Brandenburg, a Lawrence pharmacist, said she liked to see what people in other fields are up to.
"It seems to be very casual," she said of the network. "You can go when you're able to go and miss when you're not."
Before the Network's start, there weren't any organized ways for young professionals to get together, Moore said.
The network, so far, has proven successful.
"It's taken off more than anyone would have guessed," Moore said.
Smith said she hoped to see membership increase in the future.
And there are efforts to bring in speakers and to increase the group's community involvement.
The group is drawing members from the surrounding areas, Smith said, adding that she hopes to see that trend continue.
Copyright 2018 The Lawrence Journal-World. All rights reserved. This material may not be published, broadcast, rewritten or redistributed. We strive to uphold our values for every story published.