Topeka — A 3:15 p.m start probably explains why the Lawrence High boys basketball team came out flat Thursday in the first quarter of its debut game at the Topeka Invitational Tournament.
The reason behind the Lions' inability to fare any better in the first three minutes of each of the remaining three quarters is a mystery.
"I don't know. I don't understand it. If you know, tell me," frustrated LHS coach Chris Davis said after an 89-86 loss to Topeka High in the first of four opening-round games at Topeka West.
The contest figured to feature plenty of offense, given both teams' penchant for pushing the ball. Sure enough, the final stat sheet included a combined 130 shot attempts, 20 three-pointers and seven players who scored in double figures.
Unfortunately for the Lions (7-4), very little of their share of the output came in the crucial opening minutes - of any of the four eight-minute periods.
Topeka started on a 13-3 run, scored the first eight points of the second quarter, overcame a 36-35 halftime deficit with the first seven points of the third and answered another one-point disadvantage with a 10-0 run to start the fourth.
For those without a calculator handy, that's a grand sum of 38-3 in the Trojans' favor.
"That's what we've been doing all year, coming out flat and having to dig ourselves out of a hole," LHS guard Tyler Knight said. "You're not going to win many ball games when you keep doing that."
Yet, the Lions improbably found themselves with an opportunity to prove that sentiment incorrect.
Seemingly buried by its early fourth-quarter woes, LHS connected on seven three-pointers in the closing 4:01, and after the Trojans (6-3) failed to seal the game at the free-throw line, LHS had a final look at another three to send the game into overtime.
However, Nathan Padia's attempt at the buzzer from just inside the halfcourt line wasn't true, allowing Topeka to escape in the most recent shootout between the Class 6A substate rivals.
"My kids swore they were out of bounds, halfway in the bleachers shooting some of those threes," Topeka coach Mike Henson said. "You can't let that bother you. A team that shoots that well is going to make some shots.
Photo Gallery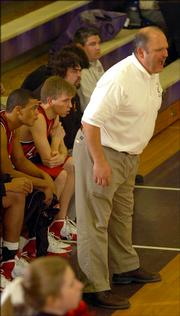 Lawrence High vs. Topeka High
"I'm just glad they didn't make 14."
Knight led the barrage, burying five shots from beyond the arc on his way to a game-high 30 points. Padia chipped in 11 with three threes, and Chance Riley added 10 points for LHS.
Chris White-Ready scored 24 points to lead the Trojans.
The Lions won't have much time to shake their matinee blues. Relegated to the consolation bracket, they face a second straight 3:15 p.m. tipoff today against Wichita West.
"We need to come out, play hard and physical, get up and down the floor and do what we need to do," Davis said. "Just do it a little better than we did today."
And a little quicker.
"I'm going to get them focused a lot earlier in the locker room," said Knight, before deciding even that wouldn't be soon enough. "Right when we get off the bus I'm going to have them focused on the game."
Copyright 2018 The Lawrence Journal-World. All rights reserved. This material may not be published, broadcast, rewritten or redistributed. We strive to uphold our values for every story published.