Kansas University has hired a retired professor to help comply with the federal law governing treatment of American Indian objects held in the university's collections.
"I believe what the University of Kansas is looking for is a way to systematically deal with these artifacts and to make sure we have as comprehensive an accounting for the importance of these pieces as we can make for native groups," Thomas Foor said after his first look at KU's collection of artifacts.
Foor, professor emeritus of anthropology at the University of Montana, started this week in the temporary position.
He comes to campus less than a year after a group of students voiced concerns KU was neglecting more than 5,000 Indian artifacts and other pieces. The collections were housed in the Museum of Anthropology, which KU closed in 2002 to cut costs. The museum is now called Anthropological Research and Cultural Collections. Its interim director is Mary Adair.
KU acquired the artifacts from faculty who had gathered some through research and from others who donated the items to the university, said Mary Lee Hummert, KU's associate vice provost for research. Some items were once part of KU's natural history collections before they were placed in the anthropological collections.
KU, Kansas State and Wichita State universities in the 1990s returned identifiable American Indian remains to tribes. But KU still has some that couldn't be identified. Adair said KU was trying to proceed with a memorandum of agreement for the return of the bones. Foor's work will focus on other artifacts, not the human remains.
In May, students in a course led by Bobbi Rahder of KU's Center for Indigenous Nations Studies said they were concerned with the care of the artifact collection, storage of artifacts and other issues.
In August, the students invited to campus James Riding In, an Arizona State University expert who viewed the collection and said KU could take better care of it.
Hummert said Foor's hiring was a response to the concerns of both students and the university.
"It's important that we're putting the resources into addressing this issue," Hummert said.
KU will not disperse its entire artifacts collection. In fact, Foor believes the bulk of the collection will remain. But sacred items and objects deemed part of a tribe's cultural patrimony will be repatriated. The items will be returned to their tribe of origin in compliance with the federal Native American Graves Protection and Repatriation Act, or NAGPRA. Foor will coordinate KU's compliance with the law.
Rahder said Foor's hiring was good news.
"I think this is a really positive step," she said. "I think the students will be pleased."
Photo Gallery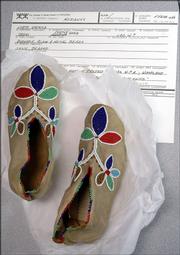 Native Artifacts
Myron Dewey, a KU graduate student at the Center for Indigenous Nations Studies and a member of the Walker River Paiute Tribe in Nevada, said he hoped American Indian professionals and current indigenous studies students have a chance to work with Foor.
Dewey said that there were more Indian professionals qualified to work with the artifacts than in the past and he hopes they are called on to help with decision-making and planning.
Foor's position is funded by the KU Center for Research and the provost's office, Hummert said.
Foor retired from his faculty position at Montana last year after 21 years, including nine as chairman of the anthropology department. He previously served for five years as Montana state archaeologist. He has done archeological fieldwork on a contract basis since 1984 for other federal, state and private agencies.
Foor will inventory the collections and present the information to representatives of the Indian nations.
Foor had his first tour of the collections Tuesday.
Adair said KU was committed to following the spirit of the law and was happy to have Foor's assistance.
She said KU was working to get new cabinetry to house the collections and also was working with a conservator who will evaluate the collection and make recommendations for any special treatment of pieces.
Copyright 2018 The Lawrence Journal-World. All rights reserved. This material may not be published, broadcast, rewritten or redistributed. We strive to uphold our values for every story published.