James Riding In, an expert at telling museums which artifacts in their Native American collections are sacred and ought to be returned to tribes, spent most of a day perusing Kansas University's collection.
He said he wasn't impressed.
"Other universities take better care of their collections," said Riding In, an associate professor of Justice Studies and American Indian Studies at Arizona State University.
Riding In's assessment echoed concerns raised in May by a group of graduate students who accused the university of neglecting its 5,000-piece collection of Native American artifacts and its 4,800 artifacts from Africa and South America.
The two collections are stored on shelves and in boxes in Spooner Hall, which until 2002 housed the anthropology department's now-closed museum.
Riding In said many of the items - he declined to say which ones - are sacred and should be returned to their tribe of origin in accordance with the federal Native American Graves Protection and Repatriation Act.
KU, he said, appeared to be out of compliance with the act.
"Some universities seem eager to comply," he said. "KU seems to be reluctant."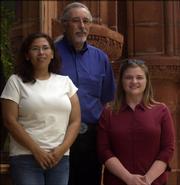 Riding In, a member of the Pawnee nation, met with several graduate students Friday in the Kansas Union. He told the group that government policies affecting Indians have long contained a "fundamental disrespect for our spirituality," and that within academia, sacred items are often viewed in material rather than spiritual terms.
Several students and faculty in the audience said the university hasn't followed through on its promise to take better care of the collection and to begin the process for returning pieces considered sacred.
"It gets talked about, there's an article in the newspaper and then - nothing," said Jancita Warrington, of Keshena, Wis., a member of the Menominee and Prairie Band Potawatomi tribes.
"This is an issue that's not going to go away," Warrington said. "I don't understand why it isn't being addressed.
Mary Lee Hummert, associate vice provost for research, disputed the assertion that KU has been dragging its heels.
"KU just got through spending $350,000 to upgrade (Spooner Hall's) air-handling and ventilation systems and $21,000 on a fire alarm system - both to protect and preserve the collection," Hummert said. She called the collection a "wonderful resource."
Hummert said an advisory committee will soon begin sorting through the issues raised by Riding In and the graduate students.
"This is not something you can just pick up a telephone and do," she said. "It's a massive undertaking, and the university needs to proceed very carefully."
The eight-member committee is expected to begin deliberations next month. Plans call for assembling a budget in time for the 2006-07 school year.
Mary Adair, the collection's interim director, also defended the university's approach.
"I think we're in compliance with NAGPRA," she said. "But I also think there's a lot that needs to be done."
Riding In urged KU to:
¢ Hire a NAGPRA compliance officer.
¢ Hire a full-time curator.
¢ Ensure proper storage.
¢ Set up a process for identifying, respecting and returning items considered sacred.
¢ Explore the environmental hazards posed by the turn-of-the-century practice of using arsenic and strychnine to protect artifacts from insects.
Riding In declined to be photographed with the collection.
"No, there are spirits in there," he said.
Copyright 2018 The Lawrence Journal-World. All rights reserved. This material may not be published, broadcast, rewritten or redistributed. We strive to uphold our values for every story published.