There's always been a lot of well-intended talk about the need to build bridges between public schools and their communities.
Usually, it's just that. Talk.
But in Lawrence, dozens of businesses and civic organizations interact with schools and vice versa.
A sampling:
¢ The local McDonald's franchise sponsors McTeacher Nights, fundraisers that feature teachers taking orders, pouring drinks and cleaning tables.
¢ Central National Bank employees read to students at Sunflower School on a monthly basis. They also loan classes money to pay for items that are sold in the school's "Holiday Bazaar." The loans are designed to help students learn about money, interest and the importance of good credit.
(Any interest earned is given back to the school).
¢ When third-graders discuss rain forest ecology, Pet World provides free demonstrations with live animals. (Snakes are especially popular).
¢ Students at Pinckney School took part in a Halloween parade at Lawrence Memorial Hospital.
These relationships and others like them are arranged by Lawrence Education Achievement Partners, a project of USD 497 and the Lawrence Chamber of Commerce.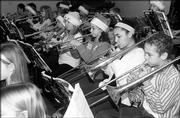 "We facilitate partnerships between the business community, civic organizations and schools," said LEAP director Sarah Klingele.
"The businesses and organizations offer their time, talent and resources," she said. "And the schools come up with ways to reciprocate. We really want it to be a win-win relationship."
Last year, LEAP participants contributed $885,687 in real, in-kind and financial aid to local public schools.
But money isn't the only measurement of the program's success.
"What it really does is help businesses reach out to the community in ways that that give them a very hands-on understanding of the challenges facing public education," Klingele said.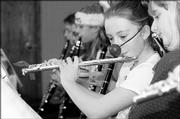 Now in its 12th year of operation, LEAP is looking for new approaches to building partnerships.
Plans call for LEAP hosting goal-setting meetings with participating businesses later this month:
¢ Elementary schools and LEAP Partners, 4:15 to 5:30 p.m. Jan. 23, USD 497 central office, 110 McDonald Drive.
¢ Secondary schools and LEAP Partners, 4:15 - 5:30 p.m. Jan. 30, USD 497 central office.
Currently, 119 businesses and organizations participate in LEAP. Most interact with one or two schools.
One of the best examples of districtwide participation, Klingele said, involves Adventures in Imagination, a partnership between the school district, US Bank and the Lied Center.
"It's incredible," Klingele said. "They've put together a governing board that does all kinds of things to enrich the arts curriculum, ranging from study guides to visiting artists to performances at the Lied Center."
Copyright 2018 The Lawrence Journal-World. All rights reserved. This material may not be published, broadcast, rewritten or redistributed. We strive to uphold our values for every story published.