Second-grader Dawson Dykes squirmed out of his chair during a visit to the Wakarusa Valley School principal's office.
A call there can sometimes mean bad news for a youngster, especially with his parents in the room.
But Dawson and his family were there so he could be congratulated for winning a contest that will net a $5,000 grant and help pay for new playground equipment at the Douglas County school.
"It was a surprise," said dad Richard Dykes. "Seeing as how we're not very lucky, are we?"
Dawson entered the Let's Just Play Giveaway contest sponsored by the Nickelodeon cable network. Youngsters were asked to write about what their school needed to help improve physical fitness. Dawson wrote about the school's need for playground equipment.
Eighteen other schools and clubs across the country also won $5,000 grants.
On Thursday, Dawson had some trouble recalling exactly what he wrote for the contest. He's more of a math whiz, his mother, Dianna, said.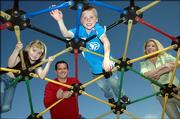 "It was old," Dawson said of the school's playground equipment.
"It meant a lot to me because I grew up at this school, too," his mom said. "I think they're using the same equipment."
Wakarusa Valley has also received a $5,000 grant from the Kansas Health Foundation. Both grants will help pay for a $32,000 set of slides and monkey bars.
"We were jumping up and down," after receiving the grants, said Gloria Sherman, the school's PTO president.
The school PTO has sought funds for new playground equipment for at least three years. Teachers have noticed students standing in line to use playground equipment.
The school and PTO have also raised about $10,000. More grant applications and fund-raisers are in the works to cover the remaining $12,000, Sherman said.
The new equipment will be added to the playground in June.
"For a small rural school to have that kind of funding coming in makes a big difference," said Elias Espinoza, Wakarusa Valley principal. "We'll get a lot of use out of it."
Dawson is making plans for the new monkey bars.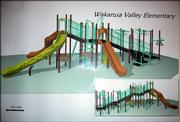 "Sometime later this year, or maybe next year, I might get myself up and stand on the very top of it," he said.
"That might be dangerous," his mother said.
Copyright 2018 The Lawrence Journal-World. All rights reserved. This material may not be published, broadcast, rewritten or redistributed. We strive to uphold our values for every story published.