Dr. Donald McSweyn has seen the worried look in the eyes of his cardiology patients before.
It is not that he necessarily has to deliver news of a life-threatening ailment, but rather that they're going to have to leave Lawrence to have their heart conditions treated. Many, he said, never do.
"It is much easier if we can tell a patient that they can stay here in town, and that it will be easy for their family and friends to be here," McSweyn said. "Patients, especially elderly patients, feel much more comfortable with that than saying we are going to send you to another city. A lot of times they just don't follow through with it in that situation."
But until recently, an out-of-town trip was what Lawrence Memorial Hospital doctors had to prescribe for patients needing the increasingly common procedure of angioplasty, which widens narrowed arteries using balloons and stents.
But last November, doctors at the hospital began performing the procedure on a limited basis. Later this month, hospital officials expect to have the program fully operational.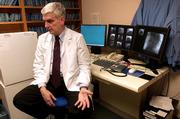 "The fact that we can do this procedure in Lawrence, we believe, is a big advantage to the community and the hospital," said Gene Meyer, president and CEO of LMH.
During the start-up phase of the program, activity at the hospital's heart catheterization lab has nearly doubled. And McSweyn - chief doctor for the program - said he has done 11 angioplasty procedures that before would have been impossible at the hospital.
Meyer said once the program was fully operational, he expected the hospital to perform 175 to 200 angioplasty procedures per year.
"From what we've seen so far, it looks like those projections are going to hold up," Meyer said.
In the next four to five weeks, McSweyn said the program would begin performing emergency angioplasty procedures. He said for now people who come into the emergency room needing the procedure are medicated and transferred, usually to St. Luke's in Kansas City.
"That adds about an hour onto the process," McSweyn said. "But I'm sure that hour seems much longer to the patient."
LMH - which is partnering with Kansas City, Mo.-based Cardiovascular Consultants to offer the services - is now able to offer angioplasty procedures, in part, because of improved technology.
McSweyn said hospitals previously were hesitant to offer angioplasty if they also didn't have an open-heart surgery program, which could be called upon to perform surgery if a dangerous situation arose during the angioplasty.
LMH doesn't have an open-heart surgery program, and likely won't in the near future, Meyer said. But improvements in the safety of the procedure have made hospitals feel more comfortable doing angioplasty without the backup of an open-heart program. McSweyn said he was comfortable with the situation because an emergency surgery is needed as part of an angioplasty only in one-half of 1 percent of all procedures.
If an emergency surgery is needed, LMH can transport a patient by air ambulance to St. Luke's in Kansas City.
Meyer said the hospital ultimately decided to move forward with the program for many of the same reasons it started an oncology program for cancer patients about two years ago: Statistics show more Douglas County residents will need the services.
McSweyn, who came to Lawrence after performing angioplasty procedures in Las Vegas for the last 13 years, estimated angioplasty numbers nationwide had increased by nearly 50 percent during the last decade.
Part of that is due to the aging of the American population, and part can be attributed to the improved technology that makes the procedure feasible for more people. But a large reason, McSweyn said, is that heart problems are no longer just for the elderly.
"People have more of the risk factors than they used to," McSweyn said. "Obesity is a problem. We see all types of people in here anymore. We had a 34-year-old patient earlier this week."
Copyright 2017 The Lawrence Journal-World. All rights reserved. This material may not be published, broadcast, rewritten or redistributed. We strive to uphold our values for every story published.