Lawrence Police Officer Eric Barkley couldn't help but think that this was a terrible place to have your heart stop.
Barkley found the man unconscious between two vehicles in a Kansas University parking lot. The man's elderly wife had flagged Barkley down while he was directing traffic following a 2002 KU men's basketball game.
That's what made it a terrible place to go into sudden cardiac arrest. A full Allen Fieldhouse crowd clogged the streets and made it difficult for an ambulance to arrive on the scene.
"We could see the fire department and the ambulance from a block away, but due to the traffic, we were with him for about 20 minutes," Barkley said.
Considering that for every minute the heart is stopped a person's survival rate decreases by 10 percent, it appeared this man was destined to die where he lay.
But he didn't, and everyone agrees that it is because of a small black and yellow box that Barkley pulled from the cab of his police cruiser. It was an automatic external defibrillator, a device that is designed to shock a person's heart back into rhythm. Barkley and a fellow officer had the device on the patient within about three minutes of his collapse.
Barkley remembers it clearly. The machine sent three jolts of electricity into the man's chest.
"I just remember hoping that this was going to work," Barkley said. "I still think about it all the time."
Interactive map: defibrillators in Lawrence and Douglas county
See map
It did work. The man - whose name was not released by the Police Department because of privacy laws - is healthy today, Barkley said.
The save is one of five that have occurred - all by Lawrence police officers - since the city purchased 76 of the devices in 2001 to put in police cars and staff vehicles for the fire department and city-owned facilities like City Hall and Eagle Bend Golf Course.
Lawrence-Douglas County Fire & Medical Chief Mark Bradford said he's proud of the results. He said he's confident the program has made the city a safer place because it allows people to receive help more quickly.
"Time is what is going to kill people in one of these events," Bradford said. "We can't drive our trucks or ambulances any faster than we do today. The only way we can cut down on the time is to let the person standing beside them do some of the work for us."
Schools next?
The man can be thankful that he was watching the Jayhawks instead of a Lawrence junior high basketball game, for example. According to statistics from the Fire & Medical Department, there are now 106 automatic defibrillators in public buildings, government vehicles and private businesses throughout the county. But none of them is in a Lawrence public school.
Bradford said he would like for that to change.
"I think the school districts are probably an area where we could have a great impact," said Bradford, who said the devices could be particularly helpful at athletic events for both athletes and spectators.
Lawrence Supt. Randy Weseman said he has studied the issue and sees some of the benefits, but also sees some of the drawbacks. One is cost. The machines run around $2,000 each, which would cost the district about $40,000 to equip each building.
But Weseman said an equally large concern is developing a program that ensures the devices are used properly. He said there are examples of school districts having the machines and being sued because they weren't used properly.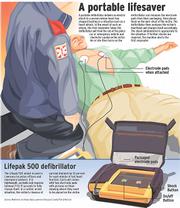 "There is always a concern about liability," Weseman said. "I'm aware of some scenarios that did not pan out very well for school districts."
Weseman said there has been at least one instance where a school district was taken to court because it couldn't find the device when an individual needed it. Another case involves a district being sued because the operator hadn't gone through certified training.
None of that, however, means the schools won't have the devices someday. Weseman is having a staff member study the issue, and he will review the findings this spring and make a recommendation for the district's next budget.
At home
Individuals also have some decisions to make about the devices. That's because the Food and Drug Administration in late 2004 made it legal for individuals to buy a special defibrillator for use in their home without a doctor's prescription.
The sole device that is on the market - Phillips Electronics' HeartStart Home Defibrillator - retails for about $2,000 and mainly is available for purchase online.
Dr. Scott Robinson, medical director of the emergency department at Lawrence Memorial Hospital, said individuals would have to weigh the value of a little extra security.
"I think it is one of those cost-benefit analyses," Robinson said. "If there is someone in your home who has a history of cardiac disease, it probably would be a reasonable thing to consider having."
Worth it?
People need to remember that the devices don't always result in a saved life. Bradford said the department didn't keep specific records about how many total times the devices were used. But he said they likely have been used 15 to 20 times since they were purchased in 2001. He said it was not uncommon for a patient to have been unconscious for too long a time period to be revived.
But he said that shouldn't detract from the program. In addition to schools, he hopes that churches and nursing homes will begin adding the devices.
"I know some people may say, 'Look at the total cost of the program, and you have only had five saves,'" Bradford said. "Are the costs really worth the benefits? I would say yes, especially if I was a family member of one of those five people."
Copyright 2018 The Lawrence Journal-World. All rights reserved. This material may not be published, broadcast, rewritten or redistributed. We strive to uphold our values for every story published.