Mark Randall, who watches as many Kansas University basketball games as he can on TV, was able to check out the 2005-06 Jayhawks in person Wednesday night.
Randall, a 1991 KU graduate who lives in Denver and works in community relations for the NBA's Nuggets, made the short drive to Boulder and sat a couple of rows behind the KU bench.
He, former KU golfer John Ogden and ex-Jayhawk hoopster T.J. Pugh were good luck: The Jayhawks claimed a 75-63 victory at Coors Events Center.
Randall left the arena impressed.
"I'm excited for them. They have so many talented young kids," said Randall, a red-shirt sophomore on KU's 1988 national-championship team and starter on the 1991 squad that lost to Duke in the NCAA title contest. "They're just going to get better and better."
Two of KU's four "young kids" had big games in the Jayhawks' Big 12 Conference opener. Guard/forward Brandon Rush, who had no points the first half, exploded for 17 the second half. Guard Mario Chalmers tallied 11 points with six assists, three rebounds and three steals against just two turnovers.
Julian Wright, whose minutes were cut to seven with fellow forward Christian Moody having a career game - and according to coach Bill Self "on a roll" - finished with two points and five boards in eight minutes. Micah Downs didn't take a shot and suffered four turnovers in seven minutes.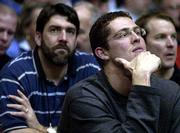 "We've got a lot of young kids that can play and play well. They're getting time and producing," said the 38-year-old Randall, the 11th-leading scorer in KU history.
While encouraged by the freshmen, Randall confessed he was a softie for KU's elder statesmen.
"What I like is watching guys at KU move on up, from their freshman year to senior year," Randall said. "I like to watch (Jeff) Hawkins and (Christian) Moody and Stephen Vinson give a strong senior presence and contribute. It's fun seeing where guys start and how much improvement they make in their careers."
Moody scored a career-high 18 points Wednesday and had seven rebounds as KU dominated the glass with 50 boards to Colorado's 28.
Vinson didn't score in eight minutes, but took his turn guarding Richard Roby, who had an off night with 12 misses in 18 attempts.
Hawkins had one of his worst games with no points, four rebounds and four turnovers while fouling out in 25 minutes.
Randall said he hoped he'd get a chance to watch KU's freshmen improve for four years, though he realizes in this day and age, with the NBA calling, it's almost an impossibility.
"That new rule will not help," Randall said of the 20-year-old age limit. "If a kid is deemed a potential pick, he may go to college (a year) but is not going to go to class. He won't get excited about doing that. Coaches have it tough. They've got to play their young kids and develop them at the same time knowing they might enter the draft."
¢
Next up: Kansas, 10-4 overall and 1-0 in conference play, will meet Kansas State (9-4, 0-2) at 12:45 p.m. Saturday at Allen Fieldhouse.
KU has won 31 straight games over the Wildcats, including a 12-0 mark against coach Jim Wooldridge.
KSU's last victory in the series was a 68-64 decision on Jan. 17, 1994, at Allen Fieldhouse.
The Wildcats are staggering after Wednesday's 57-42 loss to Nebraska on Wednesday in Manhattan.
"It was the most embarrassing effort I've ever been associated with as a college player or coach. There is no way to sugarcoat it. There is no excuse for how a team plays that way. We didn't act as competitors. It's very, very disturbing," Wooldridge said.
Columnist Bob Lutz of the Wichita Eagle wrote Wooldridge appeared so dejected he wouldn't have been surprised had Wooldridge resigned after the game.
"I'm so disappointed in myself. I don't know that I've been any more disappointed in my life about my vocation," Wooldridge said.
Copyright 2018 The Lawrence Journal-World. All rights reserved. This material may not be published, broadcast, rewritten or redistributed. We strive to uphold our values for every story published.