Lawrence's Hallmark plant will be welcoming more employees in the coming months, as the Kansas City, Mo.-based company consolidates its production operations for greeting cards.
Hallmark is moving 125 jobs out of its Leavenworth plant and will send "the vast majority" of them - and their equipment - to Lawrence, said Julie O'Dell, a Hallmark spokeswoman. Transferring a few of the jobs to Topeka remains a possibility.
The Leavenworth plant will continue with 500 employees, who will continue to make gift wrap and partyware, she said.
The Lawrence plant - the company's largest, already with 700 employees and covering 650,000 square feet - will see its payroll increase beginning in April and continuing through August.
"We are hopeful all 125 employees from Leavenworth will join us," said Mary Beth Brown, Lawrence production center manager, who informed employees about the consolidation late Wednesday and early Thursday. "I feel for the Leavenworth employees, because it's hard to change work locations, but I want them all to come and be a part of the Lawrence facility. We have opportunities for them."
About a third of the affected employees live in Lansing or Leavenworth, the company said, and all will be offered the opportunity to transfer. They also will have access to transition assistance, ranging from mileage payments for commuters to moving assistance for people who choose to relocate their homes.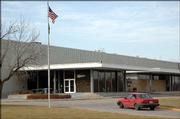 The Lawrence plant, which at times has had more than 1,000 employees, also will receive the bulk of the Leavenworth plant's card-production equipment. Hallmark officials said the moves would have a "negligible effect" on the personal property taxes paid on such equipment in Leavenworth County.
The Lawrence plant, at 101 McDonald Drive, already makes all of the company's Shoebox line of cards, and handles special orders - such as the annual White House holiday card - and others requiring special processes, such as die cutting or foil stamping. The plant also makes ribbon, bows and stickers.
The Lawrence plant produced 530 million cards last year, while the Leavenworth site packaged 41 million cards.
"Consolidating greeting card production : will make better use of existing capacity, improve asset utilization and increase efficiencies in administrative and support functions," said Ray Powers, operations vice president for manufacturing. "This initiative is designed to help our company and our manufacturing organization remain competitive in the marketplace."
Hallmark, the world's largest producer of greeting cards, reported consolidated net revenues of $4.4 billion in 2004. The privately held company has 9,900 employees in the United States, including 4,500 at its corporate headquarters at Crown Center in Kansas City, Mo.
Copyright 2017 The Lawrence Journal-World. All rights reserved. This material may not be published, broadcast, rewritten or redistributed. We strive to uphold our values for every story published.