Boulder, Colo. — Like his half brother, Kenyon Martin, who makes megamillions of dollars with the Denver Nuggets, University of Colorado sophomore sensation Richard Roby hopes to someday strike it rich in the NBA.
When, however, is anybody's guess.
"That's not something at the forefront of Roby's thinking right now," Colorado coach Ricardo Patton said of the 6-foot-6 guard, who takes a team-leading 15.8 scoring average into tonight's Big 12 Conference opener against Kansas University. Tip is 8 p.m., with a live telecast on channels 13 and 38 (Sunflower Broadband channels 13, 15).
"Mentally, he's in a good place. He's in no hurry. He's on NBA teams' radar, but right now he's on track to be here three years," Patton told the Boulder Daily Camera.
A minimum of three years would be fine with Patton, who is mighty enthused about Roby's contributions toward the Buffs' impressive 10-2 start.
"I've known guys that wanted the bling-bling and others that want to be a player. Chauncey Billups (ex-CU player now with Detroit Pistons) didn't want to just go to the league, he wanted to be a player. Roby is the same way," Patton told the Denver Post.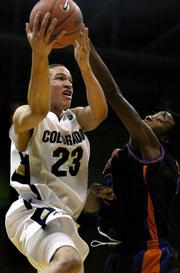 Roby, who has made 46.4 percent of his shots and hit 45 percent of his threes (27 of 60) shrugs off NBA talk.
"Right now, I'm playing for Colorado, and that's my focus," Roby said, indicating his famous sibling was urging him to stay in school, just as he did.
The 6-foot-9 Martin played four years at the University of Cincinnati, was named national player of the year, had his jersey number retired and earned his Criminal Justice degree.
"There's no target for me. Whenever I'm ready, I'll go," Roby said.
He's been able to follow his half brother's fortunes closely, considering Martin plays just down the road in Denver.
"We talk a little bit and text message each other a lot," Roby said. "He helps keep me down to earth, and it's just funny how we got to play in the same state as each other."
Roby, who scored 28 points off 10-of-26 shooting in two losses to KU his freshman year, is known for his versatility.
"Richard is probably more athletic than people give him credit for," Patton said. "I have seen him do some very athletic things, make some athletic plays, but that's not something he hangs his hat on.
"Most of the time, when you see those guys that jump extremely high, they don't shoot very well, and I think it's because they spend most of their time working in the backyard on the dunk contest as opposed to working on a skill, shooting the ball. But Richard seems to have worked on just about every phase of his game now. Certainly, his defense has to improve, but he's working at it."
Wary of Roby, KU coach Bill Self said he could envision Brandon Rush, Russell Robinson and Stephen Vinson taking turns guarding the player.
"He's athletic, has size and range. He has some things you can't teach," Self said. "He's shooting the ball deep off the catch. He can also put it down and get where he wants. He scores points off his defense, too.
"He's one of their least-experienced guys and will challenge for first team in the league."
It'll be a challenge to guard him, that's for sure.
"I'm pretty sure I'll get stuck on him a few times. We've got to try to limit his production," Robinson said. "He's a good player."
Roby is one of the youngest members of a CU team that has 10 seniors on its roster.
The veterans, including senior starters Chris Copeland (12.6 ppg), Andy Osborne (9.5 ppg) and Jayson Obazuaye (9.5) and junior Marcus Hall (9.1 ppg) make some believe CU will contend for the league crown this season.
The Buffs' however, started slowly, dropping an 89-64 decision Saturday at Texas. Roby scored 14 points, but missed 10 of 13 shots in that contest while hitting five of eight free throws.
"This is first time in my 10 years here I can remember there being no (top) team identified," CU's Patton said of the league. "Typically, the first four or the top six teams have already been identified, and some of us were trying to crack the top six.
"Now, all teams feel, 'Hey, if we continue to play well, we've got a chance to be in the top tier.' This is the first year that's been the case."
Roby wouldn't be surprised if the Buffs contend.
"The key ingredient is, we have a lot more experience than last year," he said. "We are a lot more confident. That's important when you are playing in such a tough league, you have to be confident enough you can feel you can beat every team that comes in your gym or teams you play against."
The Buffs have to believe they can beat KU tonight.
"Last year, I think we were a little bit timid when we had a big game," Osborn said. "This year, I think everybody on the team enjoys that pressure."=
Copyright 2018 The Lawrence Journal-World. All rights reserved. This material may not be published, broadcast, rewritten or redistributed. We strive to uphold our values for every story published.