A Martin Luther King Jr. celebration Monday at Pinckney School was the first of several events this month in Lawrence celebrating the life and legacy of Martin Luther King Jr.
King's birthday is Sunday, with the national memorial holiday Monday.
"Moving in Character Beyond the Color Line," the title of the 21st annual community celebration, kicks off at 6:30 p.m. Thursday with a program at Lawrence High School.
A banquet featuring speaker Leroy R. Armstrong, director of the International Conference on Expository Preaching, starts at 6:30 p.m. Saturday at the Kansas Union Ballroom. A gospel musical will be at 6:30 p.m. Sunday at the Mustard Seed Fellowship Church.
A commemorative service Monday at the Lied Center will feature Dorothy Cotton, who worked closely with King and is vice president of The King Center in Atlanta.
The tributes to King in Lawrence will close Jan. 23 with "Walking the Dream," a luminaria walk down Jayhawk Boulevard. The walk in honor of King is sponsored by the Kansas University Office of Multicultural Affairs and the Multicultural Resource Center.
"The Martin Luther King Jr. program will showcase the dreams, aspirations and goals of this great civil rights leader," said Robert Page Jr., director of KU's Office of Multicultural Affairs.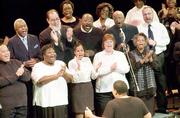 Former Kansas City, Mo., mayor and current U.S. Rep. Emanuel Cleaver II will give the march's keynote speech.
The walk will begin at 7 p.m. in front of KU's Strong Hall. After the march, there will be a performance at Kansas Union's Woodruff Auditorium by Inspirational Gospel Voices, and Cleaver will speak.
"This is a great opportunity for the KU community to come together and reflect on the accomplishments of Dr. King," said Santos Nunez, program director of the Multicultural Resource Center.
Monday at Pinckney School, Bud Stallworth sat quietly while Cornelius Bell leaned into the microphone of the school's public address system and sang out: "We shall overcome, we shall overcome, someday."
"He was giving the background of the song, kind of the rhythm of it," Stallworth said afterward while walking the school's halls.
The former KU basketball star and community activist was at Pinckney because Bell, a parent involvement facilitator at the school, invited him to talk to students about King.
The students had a chance to reflect on King's legacy as they marched around an adjacent park, led by Stallworth and Bell.
"It means freedom," 8-year-old India Forbes said while marching with her third-grade class. "Freedom from being treated badly."
Copyright 2018 The Lawrence Journal-World. All rights reserved. This material may not be published, broadcast, rewritten or redistributed. We strive to uphold our values for every story published.