The watch is just about over.
For weeks, local wrestling fans have kept busy checking out Lawrence High wrestling brackets, waiting for the squad's most heralded wrestler to make his 2005-06 debut.
They'll soon get their wish.
While it's been six long weeks for fans, it's been a mere drop in the time bucket for LHS senior Nolan Kellerman. Making the transition from football in the fall to grappling in the winter is never easy, and the defending Class 6A champ at 160 pounds had some serious baggage to shed this year.
Physically, he's still battling an assortment of injuries that cropped up on the gridiron this fall. Mentally, it's been tough to let go of the Lions' loss to Olathe East in the state semifinals.
The thing he hasn't had to worry about is dropping is any actual pounds. After cutting weight for seven straight years, Kellerman made the decision last winter that he'd wrestle at comfortable weight, landing at 160. This year, he'll take the mat at 171, looking to add a second consecutive state title. And if a second straight unbeaten season is in the cards, well, that's OK too.
How anxious are you get to get back out on the mat?
Going through the injuries and stuff, I couldn't get out right away. (And) after football season, I was a little upset with the ending of our football season, so I was ready to take a break. The injuries maybe made the break a little bit longer. I'm probably ready to come back now. It will take a little bit longer until I'm 100 percent. I wouldn't say I'm really anxious to get back out there, but I guess it's about time I do.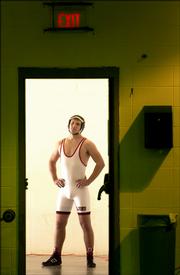 What are some of the things you're fighting through injury-wise?
My back is just in bad shape right now, and that's probably not going to get too much better, but that's not something that's going to affect my style. That's just going to be pain - there's nothing I can really do about that. And my knee, I've given it time to heal, and with a brace or something, it's going to be fine. My biggest worry is just my condition and my lack of wrestling in practice, that I probably just won't be prepared for my first match. But I'll be 100 percent soon.
How difficult is it to make the transition from football shape and the things you have to do to be successful as a football player to wrestling shape and the things you need to do to be successful on the mat?
Yeah, you'd think since I had a couple of games where I'd rushed for over 100 yards, 200 yards, so you'd think I'd be in pretty good shape. But wrestling condition is a whole different story. If you haven't wrestled, you never know what goes into it and how many muscles you're working in your body. It takes such a toll on your body. This is my ninth year doing it and it's harder to come out every year just because every year at the beginning of the year you know what you're about to go through and how hard it's going to be. But if you love the sport you've just got to keep doing it. It's just what you've got to do. It's a whole another story than any other kind of conditioning. I run track, and track conditioning is hard, and football conditioning is hard, but wrestling is just a whole other story.
How about from a technique standpoint? Does the layoff hurt you at all, or are you able to pick things right back up as you get back into it?
Definitely, the layoff hurts me. I can tell when I'm wrestling in practice that I'm not in good enough wrestling condition. I can run around a heck of a lot and not get tired, but when you're using your arms and squeezing your legs together, your body's not used to that kind of movement that you experience on the mat. It's hard to condition that kind of movement. You see us running and stuff, but that's not necessarily conditioning us. What conditions you is live wrestling, and I really haven't experienced a real live match yet. So I'm not going to be completely ready for a while.
Having not got out there yet, is it up to you to go to coach (Mark) Dulgarian and say, 'OK, I'm ready'? Is it up to him? Is it a combination of the two?
He is encouraging me to come out as soon as I can, but the ultimate decision was up to me, when I felt I was going to be ready to come out, but mostly when I thought I was going to be healthy to come out. You can't practice mat time, so that's something I'm going to have to experience soon. But as far as condition and health-wise, I'm pretty good.
When do you anticipate wrestling your first match?
Wednesday (at a double dual against Topeka and Topeka West). I'm going to go Wednesday and we'll see how it turns out. Two matches shouldn't kill me too bad, but I wrestled one match last year and almost died. You just never know until you go out there and do it. It's a whole other story. Six minutes - the hardest six minutes pretty much of your life is on the mat.
You've already left quite a bit of legacy with what you were able to do last year running the table and winning the state title. Does that put any added pressure on you now as you go out this year?
It puts a whole lot of pressure on me, and that's not fun. Looking at the season, you know it's going to be hard work, but then you've got the extra pressure. Every kid I wrestle, even if I am better than them, they're going to give me their best match. It's nice being the story in the paper, like, 'Nolan's on top at 171' but it's not going to be the best thing when you open up the paper and see that Nolan lost. That's going to be the big story this year - it feels like that to me, at least. It will be good for me, probably. It will get the monkey off my shoulders to lose a match, but we'll just see what happens.
Will you be concerned at all if you go out there and, one of the first few times out there, you drop a match?
No, not really. I'm pretty confident that I can do it again. So, if I lose to somebody, you could think they're better than me, but right now what really matters is at the end of the season. Forty-three and 0 is nice to think about, but 43-0 isn't what I'm probably going to be telling people (about). It's probably going to be the state championship they remember me by, not my record. It's really what happens at the end of the year. It's not really my goal to go undefeated again. It would definitely be nice, but winning a state championship is probably my next goal.
Copyright 2018 The Lawrence Journal-World. All rights reserved. This material may not be published, broadcast, rewritten or redistributed. We strive to uphold our values for every story published.