When Fraser Hall was built on Kansas University's campus in the late 1960s, it was reviled as a poor substitute for the grand old landmark it had replaced.
By the time James Canole died on Saturday, the double-pinnacled building he helped design had, after 40 years, become an icon of the Lawrence skyline - even receiving some grudging acceptance from its critics.
"It clearly attracts attention and reminds one that the University of Kansas is there on the hill. ... It attracts your eyes to the campus, and I think that would be a positive," said Kenneth Armitage, president of the Historic Mount Oread Fund.
But, Armitage said: "In no way does it compare to the appearance of the original Fraser."
Canole, 80, died Saturday at his home in Topeka. He served as KU's director of facilities planning for 18 years, retiring in 1987. He also served as the state architect of Kansas during the early 1960s, helping design the Eisenhower Presidential Library at Abilene.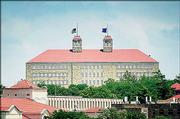 In the mid-1960s, Canole joined T.R. Griest, of Topeka, to design a replacement for "Old" Fraser Hall, an 1872 structure that had deteriorated badly and was torn down in August 1965.
"Money being short and all, he came up with an austere design that nobody liked," said Warren Corman, university architect at KU, "but they built it."
Canole and Griest's design raised howls of protest from KU's architecture faculty, as well as students and alumni. After 40 years, some of the criticism has subsided.
"You can see the twin towers and the flags for miles. It's kind of an icon, like the Campanile," said Corman, who was a friend of Canole. "He left quite a mark."
Services for Canole will be at 1 p.m. Wednesday at West Side Christian Church in Topeka.
Copyright 2018 The Lawrence Journal-World. All rights reserved. This material may not be published, broadcast, rewritten or redistributed. We strive to uphold our values for every story published.