Focused intently on basketball most of the game, Brandon Rush let his mind wander for a moment Saturday in Allen Fieldhouse.
The Kansas University freshman guard - who burned Kentucky for a career-high 24 points and 12 rebounds in the unranked Jayhawks' 73-46 rout of the No. 19-rated Wildcats - rewarded himself for his hard work.
He peeked behind the Wildcats' bench late in the second half and focused in on actress Ashley Judd, the Wildcats' most famous fan.
"She was smiling. I'm not sure who she was smiling at. I think she was smiling at me. I hope she was smiling at me," Rush said of the Hollywood actress, who arrived wearing a blue UK shirt with white scarf, later peeling off a layer of clothing to reveal a blue dress.
If Judd wasn't smiling at Rush, she was in the minority. The Kansas City, Mo., product had the Jayhawk nation grinning ear to ear on a day he attacked the basket aggressively and showed a feathery touch in hitting nine of 15 shots overall, including two of four threes.
He also had four assists, two blocks and a steal.
Photo Gallery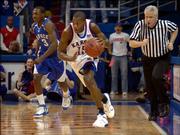 KU vs. Kentucky
"It's the best Brandon has gotten in the lane all year," KU coach Bill Self said.
Self has been making Rush run sprints and/or run a treadmill - with its settings at the highest incline on a 41â2-minute mile pace - at practice whenever he's not aggressive with the ball or passes up an open shot.
"When he plays like that," Self said, "everybody gets confidence from that."
Rush, who had scored in single digits in three of KU's last four games, busted loose with ESPN announcer Dick Vitale and 12 NBA scouts in the house.
"I don't think one game shortens your stay (in college)," Self said, asked if the game would push Rush to the pros. "(But) I'll be real honest with you: Who would not have loved watching him play today?
"If he plays every game like he did today, if he wants to go (after one season), then he should, because we'd certainly benefited from it. I guarantee Brandon is not thinking like that. He's really enjoying college. He's having fun."
Rush admittedly had a blast on Saturday in handing Kentucky its worst loss since a 150-95 thrashing by the Jayhawks in 1989 in Allen Fieldhouse.
It also marked in Tubby Smith's worst loss in nine seasons at UK and was the Wildcats' lowest-scoring game since a 46-45 loss to Michigan State in December, 2000.
Was it Rush's best game?
"By far," he said. "I've been real guilty of laying back, taking days off and not playing to the best of my abilities. This was a big game for us, so I had to turn it on.
"I think this is what coach is looking for. I took a couple of shots, rebounded the ball pretty well. I attacked the glass better than shooting jumpers. My teammates tell me I'm unstoppable when I drive."
He had nine points in a 21-4 surge that turned a 4-all tie into a 25-8 lead. The Jayhawks never looked back as their stifling man-to-man defense held UK to zero assists and 0-for-9 three-point shooting the entire first half. KU led by a whopping 41-19 at the break.
"Everything was going right," Rush said. "I was shooting the ball well. I got to the rack, got rebounds. I was flowing along with our offense."
Rush - he said he had butterflies before the game that "made me sick a little bit" - said he was surprised he and the Jayhawks rendered the Wildcats anemic on offense.
"I thought it'd be a down-the-stretch game, a one- or two- point game," said Rush, whose teammate, Mario Chalmers, said Rush was unusually quiet before the game, not "making jokes" like normal.
"But we came out and played hard. I wanted it real bad for our team. People kind of underestimate us because we're young, but we play hard and get after it."
Paced by Rush's 16 points and seven boards in 18 minutes, the Jayhawks actually led by more points at halftime than they did in the one-for-the-ages 150-95 victory over the Wildcats the last time UK visited.
KU led by 19 that day, 22 on Saturday.
"I never envisioned holding Kentucky to 19 in a half," Self said. "If they had 19 in a half, I figured we'd have 23. But we scored the ball pretty well the first half and got some easy baskets in transition."
Kentucky, which hit 24.2 percent of its shots, including three of 25 threes, finally picked up its first assist with 14:21 left, Rajon Rondo feeding Ravi Moss for a three, of all things. UK finished with five assists.
"All that means is they didn't make shots, (but) that's a unique deal when you hold a guy like Rondo," Self said, noting he never remembered one of his teams pitching an assist shutout for a whole half.
KU ballhawkers Chalmers, Russell Robinson and Jeff Hawkins held UK's only double-digit scorer, Rondo, to nine points off 2-of-8 shooting with three assists in 33 minutes.
"You can back off him. I think he's afraid of shooting the 'J' right now," Rush said. "But he's still a great player. He can drive. He can pass. He's a great rebounder."
Two other KU players joined Rush as double-digit scorers on a day the Jayhawks hit 50 percent of their shots, but just four of 17 threes.
Robinson, who missed five of six threes, had a career-high 12 points, while C.J. Giles had 10 points and six boards.
The way the Jayhawks played - tight defense and an offense that included a lot of running - made one reporter wonder if Self, whose team entered with a spotty 8-4 record, said to himself: "That's more like it."
"Yes, but it's just one game, too," he said. "But, yes, that is more like it. I know Kentucky (10-4) labored to win against Central Florida and stuff, but it's still Kentucky. That's the Wildcats out there. That win is good for our team."
KU will open the Big 12 Conference season Wednesday at Colorado. Tipoff is 8 p.m. at Coors Events Center.
- Assistant sports editor Gary Bedore can be reached at 832-7186.
Copyright 2018 The Lawrence Journal-World. All rights reserved. This material may not be published, broadcast, rewritten or redistributed. We strive to uphold our values for every story published.